Reports: Hezbollah chief's guard seen in Aleppo
Social media accounts have circulated pictures of Lebanese Hezbollah chief Hassan Nasrallah's bodyguard in military attire in Syria
Social media accounts since last week have circulated pictures of Lebanese Hezbollah chief Hassan Nasrallah's body guard, donning a military attire, in Syria.
Lebanon's Shiite movement Hezbollah is an Iranian proxy and has long supported Syrian President Bashar Al-Assad's government following the regionalization of the Syrian conflict, which began in early 2011.
On a Facebook account belonging to 'Sham Zainab' on Nov. 16, a picture of Nasrallah's body guard, who is known by his alias 'Abu Ali', was published.
The caption said: "Abu Ali, Sayed Hassan Nasrallah's guard, in one of the battle fields in Syria."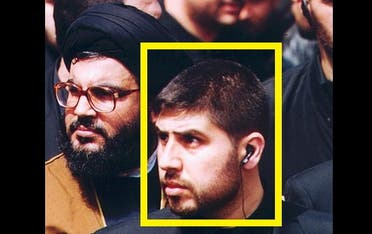 On another Facebook account under the name of 'Faris Al-Quds', a picture of 'Abu Ali' was published, showing him wearing a military uniform. The caption said that the picture belonged to Nasrallah's body guard.
One Facebook account under the name 'Mihwar Al-Mukawa" reported on Nov. 16 that Israel's Channel 10 said that 'Abu Ali' is in Qusayr – a city in the western Syrian governorate of Homs – where a military parade was taking place.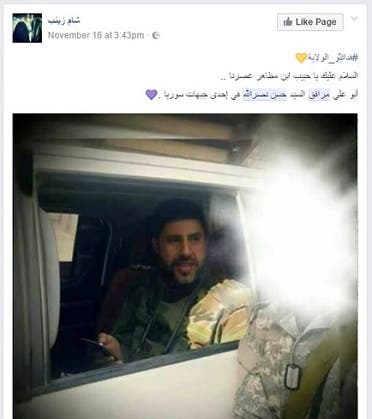 Meanwhile, other Twitter accounts under the names of 'Ali Nazal' and 'Abu Al-Huda Al-Humsi' on Nov. 18 said "Iranian websites close to Iran's Republican Guards said Hezbollah has sent Hassan Nasrallah's guard to Aleppo, and he is called Ali Abu Jawad in search for Jerusalem's path."
'Jerusalem's path' is a term used by Hezbollah to justify its involvement in the Syrian conflict as it considers liberation of Jerusalem from Israel as its final battle that should be won for Muslims.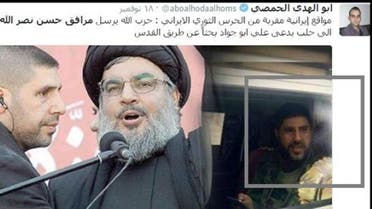 Lebanese media has also reported about the pictures.
The independent Lebanese newspaper Annahar published on Tuesday that social media users have circulated a new picture for 'Abu Al', said to be taken at the "frontier battles between the Syrian army and militants in Aleppo."
(The article was first published in the Arabic language website for Al Arabiya News Channel)