Explosions hit near Turkey's Besiktas Stadium
President Erdogan described the blasts as a terrorist attack on police and civilians
Two explosions have rocked the Turkish city of Istanbul near a football stadium, killing 38 and wounding 166 people on Saturday night.
The two blasts exploded less than a minute apart near the Besiktas Stadium just two hours after the end of a football match. Soon after, multiple gun shots were heard coming from the same location.
Turkish Deputy PM tells CNN Turk there are indications that the attack was carried out by Kurdish militants PKK.
Turkey Interior Minister said 13 people have been detained in relation to the bombing.
Seven killed in the blast were civilians, one was unidentified. 30 of those killed were police officers, including a police chief and another senior officer, Interior Minister Suleyman Soylu said in comments carried by Reuters.
"Our sources tell us that the riot police van was targeted as it was exiting the Besiktas Stadium. We are seeing the entire neighborhoods surrounding the area on high alert with police and ambulance cars everywhere," Al Arabiya's sister news channel Al Hadath's correspondent reported from Istanbul.
President Recep Tayyip Erdogan described the blasts as a terrorist attack on police and civilians, adding that the aim of the bombings had been to cause the maximum number of casualties.
"Nobody should doubt that with God's will, we as a country and a nation will overcome terror, terrorist organizations ... and the forces behind them," he said in a statement.
Most of Turkey's state television and media outlets were observing live coverage silence of the attack on Friday night.
Turkey's radio and television board had issued a temporary coverage ban citing national security concerns. It said "to avoid broadcasts that can result in public fear, panic or chaos, or that will serve the aims of terrorist organizations."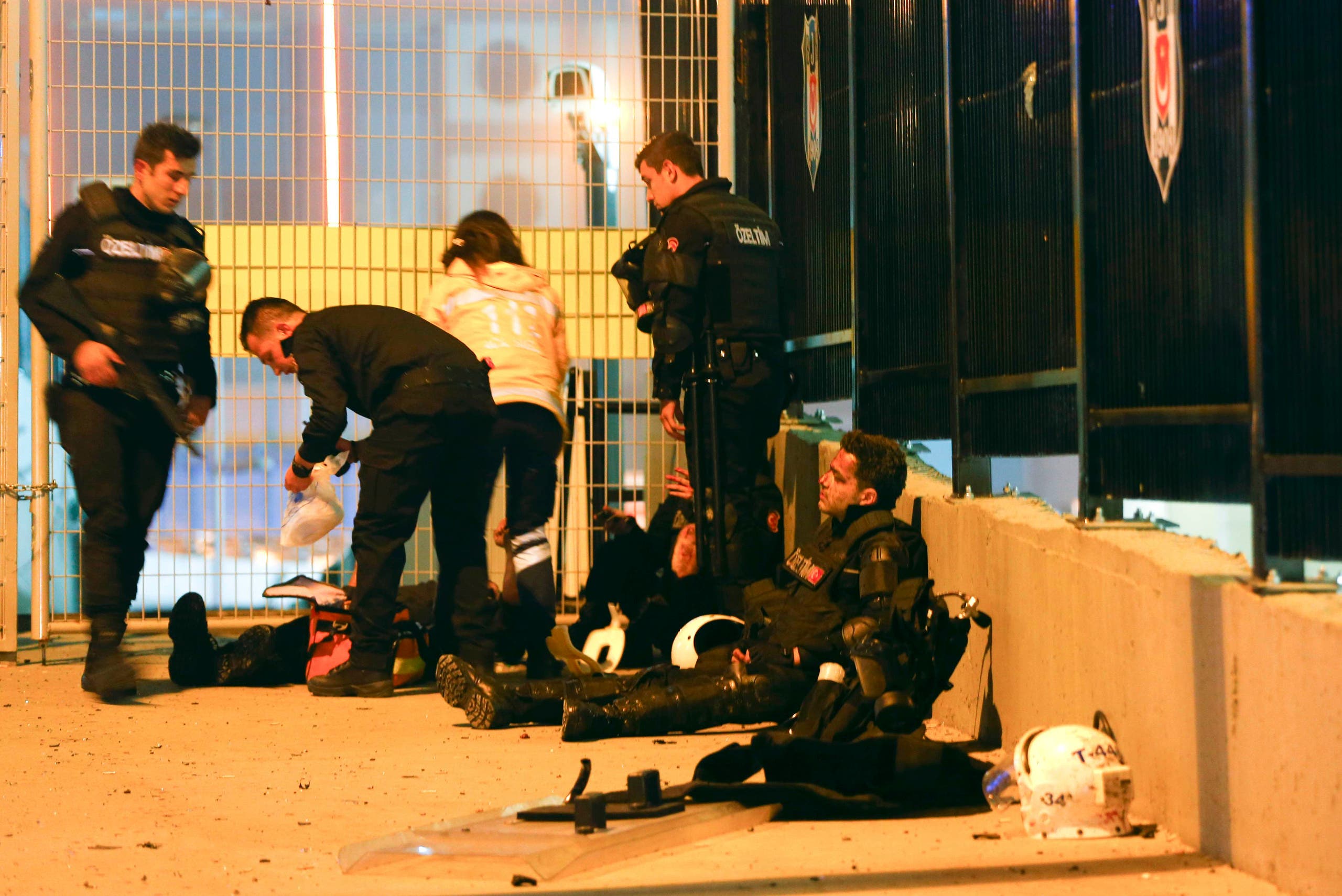 An eyewitness said that the stadium is close to famous tourist sites Taksim Square and Istiklal Avenue that are frequented by Europeans and Arabs.
"There were nearly 500 people near Taksim Square and Istiklal Avenue when the explosions detonated. A lot of the hotels near the stadium that are often frequented by Arab tourists were evacuated by security forces for fear of another attack during the night," said Bashir Ayash, a Syrian journalist who was close to the scene of the attack.
Turkey has experienced a deadly year of attacks in its two biggest cities of Ankara and Istanbul that left dozens of people dead and placed the country on high alert.
"We are going to see a lot of the security apparatus in Turkey tightening and raising their alerts to the highest levels as we approach the end of the year. Turkey has seen so many deadly attacks hit its cities this year alone and tonight's attack shows how tense the situation on the ground really is," political analyst Islam Ozkan told Al Hadath.
Save