Jubeir: Iran's meddling in region must be stopped
Kerry stressed that his country rejects Iranian interference in Yemen, which is also rejected by Saudi
Saudi Foreign Minister Adel al-Jubeir said at a joint press conference with US Secretary of State John Kerry, that any agreement in Yemen must be based on the Gulf initiative and the decision of the United Nations.
Jubeir added that Saudi Arabia calls for the world to take tough action to stop Iran's interventions in the region.
Kerry announced that ISIS is on its way to defeat.
The Secretary of State said the US condemns the terrorist attacks, that took place in the Yemeni city of Aden on Sunday.
He added that the world must end the war in Yemen in a way that will protect the security of Saudi Arabia, urging all Yemeni parties to return to the negotiating table.
From his part, Kerry stressed that, like Saudi Arabia, his country rejects Iranian interference in Yemen.
Prior to the conference, King Salman received Kerry whose trip, come ahead of the inauguration of Republican President-elect Donald Trump.
Kerry held as well meetings with Crown Prince Mohammed bin Nayef and other royalty in Riyadh, the Saudi capital.
"In turbulent times, it's good to have solid friends," Kerry told journalists Sunday night.
"That's why the United States' partnership with Saudi Arabia is rightly so valuable."
Kerry earlier joined diplomats from Britain, Oman and the United Arab Emirates to speak with Ismail Ould Cheikh Ahmed, the United Nations special envoy to Yemen.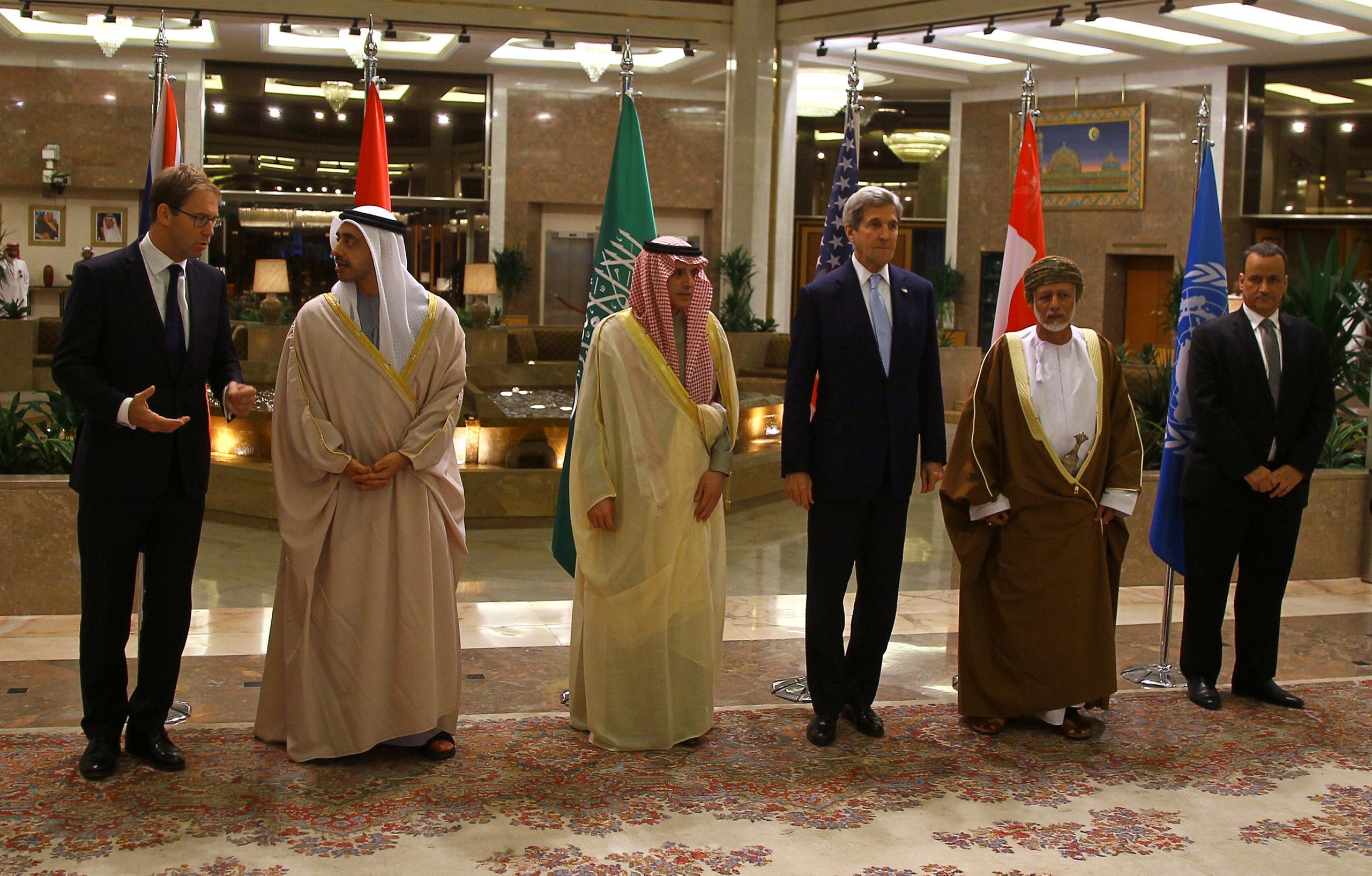 The UAE is part of the Arab coalition fighting Houthis, while Oman has served as an interlocutor for them.
According to AP, on Twitter, British Middle East Minister Tobias Ellwood said the meeting discussed a political process to end Yemen's war, something he described as "the only way to bring peace."
Kerry said he hoped to have parties involved "within two weeks" to agree to terms earlier set out by the UN But he and the Saudi Foreign Minister offered few specifics on how that would be accomplished, especially as the UN has proposed sidelining Saudi-backed
President Abed-Rabbo Mansour Hadi and giving the rebels a share of power — concessions the kingdom strongly opposes.
"You can see from the humanitarian situation, which is dire and deteriorating rapidly, that it is urgent that we try to bring this war to a close," he said. "But we also need to bring it to a close in a way that protects the security of Saudi Arabia."

[With agencies]