Aoun against any weapons used inside Lebanon
The Lebanese president told Al Arabiya News Channel that his country was against internal armed conflict
In an exclusive interview with Al Arabiya's General Manager Turki Aldakhil, Lebanese President Michel Aoun has said that he visited Saudi Arabia because it is the first country to invite him since he took power as he attempts to clarify specific foreign policy issues.
Aoun reiterated that Lebanon has no intentions of working against Arab interests, particularly those of Saudi Arabia.
"We have grown up with Saudi Arabia's friendship so unsatisfactory results are unacceptable during these tense times. But positions can be clarified," said Aoun during his two-day visit to Saudi Arabia, adding that Lebanon has not done anything that harms Arab interests.
The president said that Lebanon was against weaponized conflict within his country, adding that the recent presence of arms was linked to "certain circumstances."
Aoun said that there is no longer space for resistance within Lebanon, as resistance within the Middle East has been overridden by interference from the US, Iran and Russia.
Hoping for Gulf tourists' return
Aoun voiced hope that that Gulf tourists would return to Beirut in the near future, particularly Saudi citizens who are significant financial contributors to Lebanese tourism.
Saudi and other Gulf citizens were advised to leave Lebanon a year ago and Aoun said this led to speculations in the wake of political issues surfacing after the Syrian war.
"Lebanon has become 100 percent secure except for car accidents. We have a free market now, especially for Saudi Arabia which has existing investments," Aoun told Aldakhil.
The war in Syria
Aoun said he would prevent any attempt being made from Lebanon to launch an attack against any country just as it prevents the entry of terrorists from Syria to Lebanon.
He also said that some Lebanese parties' decision to participate in the Syrian war was not sanctioned by the state, adding that he was against such decisions.
"As a Lebanese president, I don't have the right to be with anyone against anyone because I represent all the Lebanese people. The Lebanese people have different opinions about the matter, and positive neutrality is the right stance," Aoun said, adding that the Syrian crisis can only be resolved politically because international parties can fuel the war from outside Syria.
Regarding Syrian refugees in Lebanon, Aoun said that once there is security in Syria, refugees must return home because there are economic difficulties in terms of aiding them.
Currently there is one Syrian refugee for every two Lebanese citizens, according to Aoun.
On Hezbollah's militancy
Without directly naming Hezbollah during the interview, he said that he supports "the resistance" but not "terrorism" from the militants, adding that he is against any weapons used inside Lebanon.
Hezbollah's armed militancy has divided Lebanon over the years as they do not operate within the context of the state and army.
Aoun who referred to Hezbollah as the "resistance," said the issue of weapons and its role is now part of the Middle East's crisis, which involves the United States, Russia, Iran, Turkey and Saudi Arabia. He added that this was far more important than just the Lebanese state's capability to address it.
Aoun stressed the importance of enhancing the army's fighting capabilities and equipping it with modern weapons. He also expressed the need for exchange of security information with friendly countries in order to combat terrorism and empower the official military institution.
Domestic issues as important
With regards to domestic issues, Aoun said there were clauses in the 1989 Taif Agreement, which helped end the civil war in Lebanon, that have not been fully implemented. He said it was of high importance for these clauses to be realized, particularly electoral law, in order to promote co-existence and the proper representation of the different segments of Lebanese society.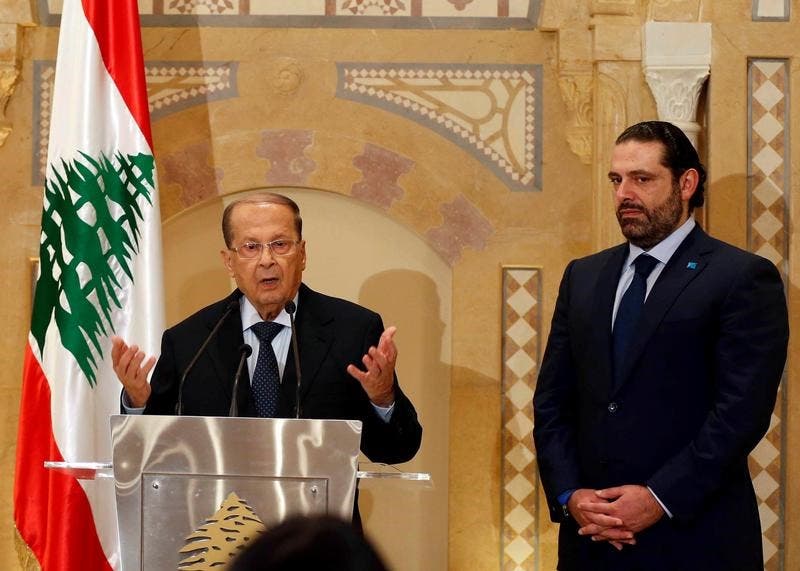 He added that there are some electoral laws implemented "1992 onwards resulted in parties loyal to Syria gaining a certain advantage. Syria left and this advantage remained."
The upcoming parliamentary elections in Lebanon will be held "on the basis of the law," Aoun said.
"The proportional electoral law will make me lose some seats but it guarantees representation of all citizens. I expect there will be an initial settlement but it will not provide complete justice in terms of an electoral law," he added.