Al-Nusra Front religious leader and an ISIS prominent support hurried up to defend Qatar online after one day barely has passed since Saudi Arabia, UAE and Bahrain among other Arab and Muslim countries severed ties with Qatar for backing terrorism.
They described severing ties with Qatar as an "oppressive siege."
"Muslim nations reject siege against a Muslim nation," the religious leader for Al-Nusra, Al-Qaeda's branch in Syria, Abdullah al-Muhaysini, said.
Muhaysini, who was hosted several times on the Qatari Al-Jazeera Channel, added: "To our brothers in Qatar, it is only enough for us here in Syria that we hear Syrian elderlies praying for you; it is a message for everyone who stand with the oppressed."
Muhaysini's relationship with Qatar began when he was imam of Qatar's mosque in Mecca. He later lived in Qatar and in 2012 he participated in the second conference of the Association of Muslim Scholars in Doha.
Citing one official, Al Jazeera's news website had previously published "what has expedited the formation of the [Salafist] Association of the Muslim Scholars is the launch of Salafist parties from revolution [Arab Spring] countries to represent them internally."
The conference for the Muslim Scholars had an opening speech for Saudi scholar Nasir Al-Omar when he said: "The conference aims to narrow down perspective between Muslim scholars after differences appeared following Arab Spring."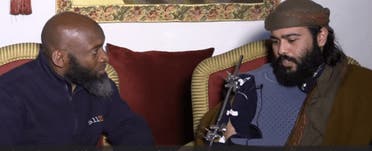 On May 25, 2012 in the Qatari capital Doha, Muhaysini and Omar appeared with Al-Jazeera presenter Tayseer Alouni in a picture taken during the event.
In August 2013, a year after the conference, Muhaysini joined Nusra Front fighters after his activities in fundraising for the organization following a number of campaigns, whom he solicited on his personal Twitter account.
On October 29, 2014, the Brookings Doha Institute has organized a panel to discuss future of jihadist groups in Iraq and Syria. The session included all of Richard Barrett, first vice president for Soufan group, Charles Lister, visiting fellow at the institute, in addition to one of the fighters from Nusra and one of its media arms, the American Bilal Abdul Kareem, who latter appeared in pictures of him with Muhaysini.
In the panel, Abdulkareem said "forming the Islamic state is the jihadists' desire."
What's interesting here is that Abdulkareem had traveled to Doha for the panel from the Syrian city of Aleppo. He went to Doha although he joined al-Nusra in 2012.
Abdulkareem is described as the extremists' publicist and his interviews with foreign and Arab fighters in Syria and members of al-Qaeda were always broadcast on Al-Jazeera television channel.
Abdulkareem, who once said that joining the fighting in Syria is a religious duty and the Syrian fighters are the "first line of defense" in fighting Shiites, was named the most influential figure on December 17, 2016, by Al-Jazeera's program News Race as he won 53 percent of the votes.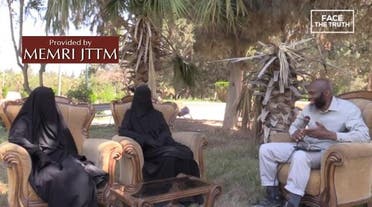 ISIS prominent supporter
The second fatwa came from the radical Kuwaiti preacher Hamid Abdullah al-Ali, who was known for his support to Abu Musab al-Zarqawi, and it was titled "The rule of Sharia in the unjust siege on Qatar."
Ali, the former secretary-general of the Salafist movement in Kuwait, found no impediment to minimize Qatar's relationship with Iran.
Ali, who often appears as a guest on Al-Jazeera channel, said: "Al-Jazeera which broadcasts from Qatar defends the Sunnis in Iraq, Syria, Lebanon and other countries. It adopts the causes of the Islamic nation and the nation's persecuted people. It never adopted Iranian causes."
Previously, Ali described al-Zarqawi as the "prince of martyrdom", saying in his obituary: "Commander Abu Musab was martyred, and an adult was shot dead and carried by Abu Hamza, and if he was martyred, he would carry his flag and this flag would not fall."
And when Al-Jazeera hosted him to comment on the killing of Osama bin Laden and his heirs, he said: "Bin Laden has succeeded in spreading the idea of resistance ... it is a complete success story."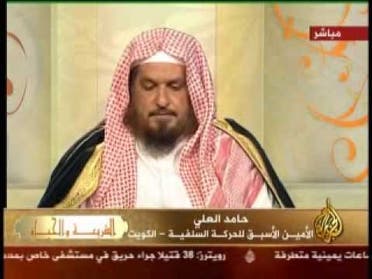 Among the books written by Ali, "Guiding people to the virtues of jihad, the climax of Islam."
Muhaysini completely ignored mutual relations between Qatar and Iran and the Revolutionary Guards, while Ali denied them. This comes although Doha announced deepening inter-relations with Iran and amid reports that mutual agreements were signed.
And it is worth to be mentioned also that Ali, who used to offer his preaching lessons in Qatar for many years, was jailed and detained in Kuwait several times, after he was indicted by supporting Zarqawi and accusations of links to one of the perpetrator s of Kuwait' bombing.