Iran has recently witnessed increasing pressures from both sides of the Atlantic, especially over its ballistic missile ambitions. After weeks of deliberations, the US Congress passed initiatives imposing unprecedented restrictions on Tehran.
Just one day after Iran test-launched a satellite-carrying rocket, the Europeans on Friday joined their American allies in sharpening their tone on Iran's mullahs, demanding an immediate cessation.
The US Treasury Department also responded sharply, imposing even further sanctions on six companies owned or supervised by the Shahid Hemmat Industrial Group, known to play a central role in Tehran's ballistic drive. All their US assets have been frozen and US citizens barred from dealing with the six firms.
As expected, Iran has continued its refusal to cooperate. "We will continue with full power our missile program," said Iranian Foreign Ministry spokesman Bahram Ghasemi to state broadcaster IRIB.
The differentiation
A logical conclusion would be for Iran is to yield back on its ballistic missile program. Yet this isn't necessarily the case for Tehran.
We are dealing with a completely pragmatic regime, moving its pawns very carefully, with the utmost calculus to the very end. Iran needs to maintain face on two different issues:
1) While not understood by many in the West, the mullahs desperately need to maintain a straight face before its already dwindling social base.
2) Iran will continue to set the stakes high for the international community – meaning continue their missile program – until pressures corner it in the ring, similar to 2013 when sanctions forced Iran into the nuclear negotiations.
Iran needs to undergo missile tests similar to those seen Thursday, claiming to seek placing satellites into orbit. Whereas it is common knowledge the same technology is used to develop intercontinental ballistic missiles enabling Iran to threaten targets in mainland United States.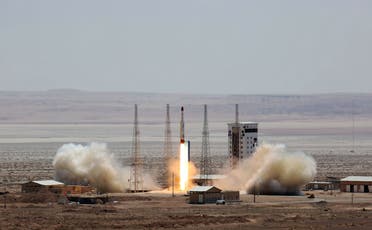 Foul objectives
While Iran abandoned any intention to place a man into space, it continues to seek similar objectives even despite reports of the recent "Simorgh" test-launch failure last week.
As Iran's ballistic missile program is known to have received huge amounts of support from the North Koreans, Iran itself is known for parties abroad through providing missile armament.
The Iran-backed Houthis in Yemen launched a ballistic missile Thursday fired targeting the Muslim holy city of Mecca in Saudi Arabia, only to be shot down, according to the Saudi-led coalition fighting the Tehran proxies. This shows both the threats posed by Iran's ballistic missile program, as such arsenal can be provided to dangerous groups abroad, and to what extent Iran will go.
Further to the west in the flashpoint Middle East region reports also indicate of Iran building and launching underground missile production factories in Lebanon. This is a new form of exporting instability and extremism for Iran, and these sites are currently controlled completely by the Lebanese Hezbollah, Tehran's main terrorist offspring.
On a side-note of Iran's missile ambitions, L. Todd Reed explains in The Washington Times, "The argument could be made that the consequence of the nuclear deal was Iran being able to buy sophisticated weapons and Russia having the cash to stay in the Middle East as a military power."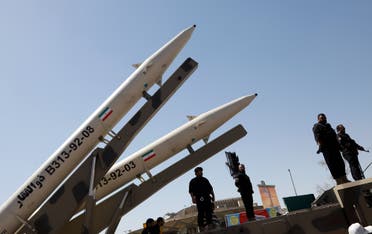 A new era
What is terrifying Iran, however, is the new and unexpected landscape it finds itself in as the Trump administration is busy overhauling the highly flawed Obama foreign policy vis-à-vis Tehran.
Senior Iranian regime officials were heard threatening attacks against American bases prior to last week's unparalleled sanctions mainly targeting the Revolutionary Guards (IRGC). Both chambers of the US Congress passed their bills with veto-proof authority.
Iran has also sensed this change in language by the West and has begun to act accordingly. A recent piece in The Hill best explains this transition:
"A mere shift in tone from the [Trump] administration already appears to have affected Iran's calculus. While Iran has continued missile and space launch vehicle testing, it has not launched another nuclear capable, medium-range ballistic missile since being put "on notice" by the White House in February. In Syria, Iranian-backed forces have not targeted the U.S. military outright, even though the US twice downed Iranian-made Shahed-129 drones."
The Europeans have also shown signs of significant changes. While Iran has taken advantage of its relations with the Green Continent to close economic agreements, the European Troika – France, Germany and the United Kingdom – also joined their American allies in condemning Iran's recent rocket test as "inconsistent with United Nations Security Council Resolution 2231."
Neither destabilizing impact of Iran's ballistic missile ambitions on the Middle East, nor the IRGC's role in this regard can be denied. It is also true that Iran took advantage of Obama's disastrous appeasement/engagement policy to advance its missile arsenal to the utmost extent.
Despite the new US sanctions restricting and blacklisting the IRGC being long overdue, needed now is for the Trump administration to fully implement such actions against Iran. There is no more room for reservations that have to this day provided Iran paths to bypass and derail international community efforts.
The countries of Iraq, Lebanon, Syria and Yemen have suffered the most of Iran's belligerence, and the full eviction of the IRGC footprints from these states would be the next necessary step forward against Tehran's regime.
Disclaimer - This author is writing under a pseudonym to protect his identity.