Breaking:

US sanctions Lebanon's Gebran Bassil for Hezbollah ties, corruption
The United States has sanctioned Lebanon's Gebran Bassil for his role in endemic corruption as well as his support for Hezbollah, senior government officials announced Friday.
"He represents everything wrong with the broken Lebanese system," a senior government official told reporters in a phone call to discuss the move that came under corruption-related sections in the Magnitsky Act.
For all the latest headlines, follow our Google News channel online or via the app.
Bassil is Lebanon's former foreign minister and the son-in-law of President Michel Aoun.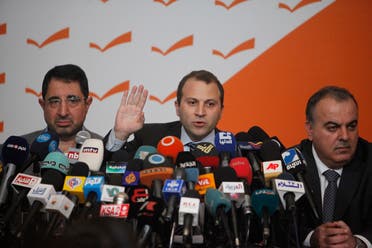 A statement from Secretary of State Mike Pompeo said Bassil had been "involved in approving several projects that would have steered Lebanese government funds to individuals close to him through a group of front companies."
His role in providing political cover for the Iran-backed Hezbollah was also related to the move.
"And I want to tie this to Hezbollah ... his political partnership has enabled Hezbollah to further expand its political influence and contribute to the broken government system," the senior government official said.
This comes as part of Washington's maximum-pressure campaign against Iran and its proxies around the region.
Read more: Lebanese officials hit by US sanctions over corruption, support to Hezbollah
Friday's designation should come as no surprise, a separate official said. Bassil helped "strengthen endemic corruption" in Lebanon while also abusing his positions in government for personal gain, the official said.
Asked if the decision could be undone, another official said any individual who is designated may challenge.
"But there is no mistake here. It is not typical for these types of designations to be undone," the official said.
The official also noted that if Bassil were to change his behavior and support for corruption in Lebanon, "it's certainly something the [US] government will consider."
Bassil responded after the announcement by saying "sanctions have not scared me."
لا العقوبات اخافتني ولا الوعود أغرتني.
لا أنقلب على أي لبناني...
ولا أُنقذ نفسي ليَهلك لبنان.
اعتدت الظلم وتعلّمت من تاريخنا : كُتب علينا في هذا الشرق أن نحمل صليبنا كل يوم ... لنبقى. GB

— Gebran Bassil (@Gebran_Bassil) November 6, 2020
Earlier this year, the US expanded the scope of sanctions on Lebanese officials to include non-Hezbollah members. Ali Hasan Khalil, the former finance minister and top political aide to Speaker Nabih Berri, was sanctioned alongside former Public Works Minister Yousef Fenianos.
Bassil impeding government formation
Lebanon has been without a government since August after Hassan Diab resigned following the deadly Aug. 4 Port of Beirut explosion.
Lawmakers designated Mustapha Adib, Lebanon's ambassador to Germany, to form a new government. He also stepped down after failing to form the government he wanted - free of influence from the traditional political parties.
Saad Hariri was then nominated on October 22 to try to form a government. Although reports suggested he had made quick progress in his efforts to form a new government, momentum appears to have slowed in recent days.
Bassil and Hezbollah did not name Hariri; however, they have demanded certain representation in the next government.
A State Department Spokesperson told Al Arabiya English that the selection and appointment of a new government was a decision for the Lebanese people to make.
But, the spokesperson added: "As Secretary [of State Mike] Pompeo has repeatedly stated, business as usual is not acceptable."
Asked if the US would work with a new Lebanese government that included Hezbollah, the official skirted the question. "Iranian-backed Hezbollah is a terrorist organization that is more concerned with its own interests and those of its patron Iran, than what is best for the Lebanese people," the official said.
Read more:
Saad Hariri secures support to become Lebanon's next prime minister-designate
Lebanon's largest Christian political party says won't back Hariri for PM