Lebanese officials hit by US sanctions over corruption, support to Hezbollah
The top political aide to Lebanon's parliament speaker, Nabih Berri, and the country's former Public Works Minister Youssef Fenianos were sanctioned by the United States Tuesday for corruption and for their support to Iran-backed Hezbollah.
Former Finance Minister Ali Hasan Khalil and Fenianos were designated for conspiring with Hezbollah at the expense of the Lebanese people and institutions, senior US officials told reporters.
For all the latest headlines, follow our Google News channel online or via the app.
Both Lebanese officials exposed their positions of power "to line their own pockets and betrayed public trust," the officials told reporters in a phone briefing.
The officials said the US would not hesitate to sanction any other individual supporting and enabling Hezbollah's illicit activities.
"The two former ministers really exemplify the old corrupt way of doing business among the Lebanese political elite," one of the officials said.
Khalil, seen as the top political aide to Berri, tried to lobby for eased US sanctions "to get Hezbollah to get money moving," the official added. He was the finance minister from 2014 until the beginning of 2020.
He also refused to sign contracts and demanded kickbacks, by attempting "to shake down contractors and demand kickbacks."
Fenianos, a senior aide to Marada Movement leader and former presidential candidate Sleiman Frangieh, engaged in public corruption by diverting funds from his ministry "in order to bolster his political allies."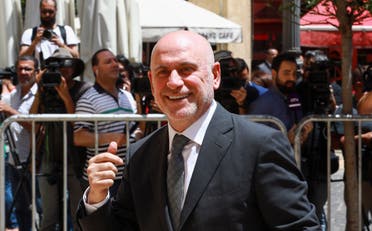 He was the public works minister from 2016 until the beginning of 2020.
US Secretary of State Mike Pompeo
Secretary of State Mike Pompeo said that Lebanese political leaders had ignored "their responsibility to address the needs of their people and instead built a political system that services their private interests."
"While holding positions in previous Lebanese cabinets, Fenianos and Khalil directed political and economic favors to Hezbollah, including ensuring Hezbollah-owned companies won government contracts worth millions of dollars and moving money from government ministries to Hezbollah-associated institutions," he added.
Pompeo said the US would continue to support the call by the Lebanese people for an end to corruption and political stagnation.
We stand with the Lebanese people's call for reform and will promote accountability for anyone facilitating Hizballah's terrorist agenda. Today the U.S. is designating two corrupt former Lebanese ministers who abused their positions to provide material support to Hizballah.

— Secretary Pompeo (@SecPompeo) September 8, 2020
Later Tuesday, US Assistant Secretary of State David Schenker said that more sanctions should be expected.
Read more:
US Treasury to impose sanctions on Hezbollah-linked Lebanese individuals
Macron told Trump that US sanctions on Lebanese groups counterproductive: Official
Lebanese leaders promise new govt in two weeks; Macron threatens sanctions