Arab League, Al-Azhar condemn Paris shooting attack
The incident prompted worldwide reactions, from the Arab world, the United States, Russia, Germany and the United Kingdom
The Arab League and Al-Azhar, the Sunni Muslim world's premier Islamic institution, were among many countries and international organization that strongly condemned Wednesday's deadly shooting attack on the office of French satirical weekly Charlie Hebdo.
"Arab League chief Nabil al-Arabi strongly condemns the terrorist attack on Charlie Hebdo newspaper in Paris," the League said after gunmen stormed the weekly's offices killing at least 12 people and chanting "Allahu Akbar" (God is greatest).
Al-Azhar, a thousand-year-old seat of religious learning respected by Muslims around the world, referred to the attack as a criminal act, saying that "Islam denounces any violence", in remarks carried by Egypt's state news agency MENA.
The Geneva Center for Human Rights Advancement and Global Dialogue has also condemned the attack on Charlie Hebdo.
"The Geneva Centre fully joins the international community in denouncing these cruel acts in the strongest possible terms, and wishes to underscore the non-negligible symbolic meaning such a tragic event carries."
"This barbarian act is a double act of violence, as it represents not only an attack on French citizens' life and security, but also an attack on freedom of opinion and press, which constitute the precondition for a prosperous democracy. It marked a dark day for freedom of expression, and cannot be, in any circumstances, justified," the center added.
Wednesday's shooting was described by French President Francois Hollande as "a terrorist attack" in statements carried by Reuters.
The incident prompted worldwide reactions, from the Arab world, the United States, Russia, Germany, the United Kingdom and several others.
Arab states, including Saudi Arabia and Lebanon, have condemned the Paris newspaper attack.
Saudi Arabia described it as a "cowardly terrorist act which Islam as well as other religions reject," the state-run Saudi Press Agency quoted an official source as saying.

Lebanese Prime Minister Tamam Salam condemned the shooting and sent his condolences to the French leader and the families of the victims.
Also, former Lebanese Prime Minister Saad Hariri denounced the assult, saying: "the attack on the French capital is a clumsy stab that harms Islam and hundreds of thousands of Muslims who have been living in France for decades."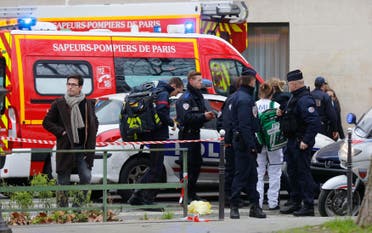 Globally, the United States condemned the shooting in the "strongest possible terms."
Secretary of State John Kerry told the people of France that each and every American stands with them today.
Speaking in English and French, Kerry said the U.S. is committed to working with France to confront extremism and promote the cause that extremists fear: Freedom - or "la liberte."
U.N. Secretary General Ban Ki-moon said he condemns the "horrendous" attack on the French satirical weekly, branding it an assault on the media and freedom of expression.
Prime Minister David Cameron described the shooting as a "barbaric" attack, saying Britain stood with France against "all forms of terrorism".

"I'm sure the whole House will want join me in condemning the barbaric attack this morning on an office of a magazine in Paris," Cameron said, during his weekly question and answer session in parliament's lower House of Commons.
"While details are still unclear, I know that this house and this country stands united with the French people in our opposition to all forms of terrorism and we stand squarely for free speech and democracy," Cameron added.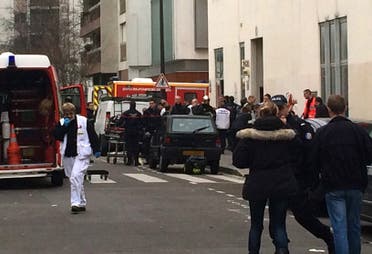 Meanwhile, German Chancellor Angela Merkel described the shooting as an attack on freedom of speech and the press.
"This abominable act is not only an attack on the lives of French citizens and their security," Merkel said in a statement carried by Reuters.

"It is also an attack on freedom of speech and the press, core elements of our free democratic culture. In no way can this be justified."
In the same vain, Russian President Vladimir Putin sent his condolences to the victims of the Paris newspaper attack and condemned "terrorism" in all its forms.
"Moscow resolutely condemns terrorism in all its forms," Putin's spokesman Dmitry Peskov told TASS news agency.
"President Putin due to the tragic event in Paris... expresses his deep condolences to the relatives and loved ones of the dead and also to the people of Paris and all the French."
France's Muslim leadership sharply condemned the shooting as a "barbaric" attack and an assault on press freedom and democracy.
"This extremely grave barbaric action is also an attack against democracy and the freedom of the press," the French Muslim Council (CFCM) said in a statement carried by Agence France-Presse.
The body represents France's Muslim community, which is Europe's biggest and estimated to number between 3.5 million and five million people.
The Muslim council also called for calm and urged Muslims to beware of extremist manipulation.

"In this tense international climate stoked by the madness of terrorist groups unjustly claiming to represent Islam, we call on all those attached to the republic's values and to democracy to avoid provocation", it said.

(with Agencies)