Canadian Muslims launch anti-ISIS ad campaign
'Any Muslim who hurts Canada or a Canadian is an enemy of Islam,' states one poster
A new ad campaigned recently launched by Canada's Muslims Against Terrorism group vowed to "do whatever it takes to guarantee" the safety of people in the country, the local Toronto Sun reported Monday.
The campaign produced large posters, one of which hangs on the wall of the southbound platform of the Dundas subway station in Toronto.
"Any Muslim who hurts Canada or a Canadian is an enemy of Islam," states the poster. "We, the Muslims of Canada, want you the Canadian to know that we will watch your back. We will do whatever it takes to guarantee your safety."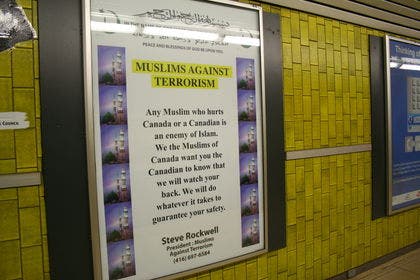 President of the group Steve Rockwell, a Muslim who converted to Christianity before reverting back again, said the campaign is also to offset negative media reports depicting Islam as a faith based on terrorism.
"I think Muslims in this country should not sit back and let the twisted view of Islam fly," he told the Toronto Sun.
He added: "From all the violence perpetrated by [Islamic State of Iraq and Syria] ISIS and the Taliban and Boko Haram, these are sensationalized by the media ... and with the few Muslims that are responding to them positively and joining [groups like ISIS], it gives a twisted view of Islam, and that is not what Islam is all about."
Rockwell, a regular TV and radio commentator, described the majority of Muslims in Canada as peaceful people.
"If we see or hear of somebody going to join ISIS or commit and act of terrorism, we'll call [the authorities]," he said.
"We're here to protect. It is no pleasure to the Muslim community when a Canadian is hurt."
Rockwell said more posters are set to go up in the future.