Four people were injured Monday in the blast that rocked a subway station in the heart of Manhattan, in what the city's mayor said was an "attempted terrorist attack."
The blast – which took place in the station at the Port Authority bus terminal, not far from New York's iconic Times Square – sparked commuter panic and travel disruptions.
The bomb rattled a city still scarred by the devastating September 11 attacks, and a truck attack in October that left eight dead on a bike path.
A 27-year-old man identified as Akayed Ullah is suspected of being behind the blast was in custody, and suffered injuries, police said. None of the other injuries were life-threatening.
"This is New York. The reality is that we are a target by many who would like to make a statement against democracy, against freedom," New York Governor Andrew Cuomo told reporters.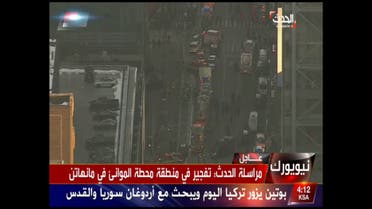 The New York fire department said it was responding to an incident at the Port Authority bus terminal in midtown Manhattan.