The man suspected to be behind the New York terror attack on Tuesday had left a note in which he pledged allegiance to ISIS.
The Uzbek national who plowed through a New York bicycle path, killing eight people, was associated with ISIS group but "radicalized domestically," the state's governor Andrew Cuomo said Wednesday.
The suspect, Sayfullo Saipov, was shot by police at the end of the rampage in lower Manhattan Tuesday but was expected to recover from his wounds.
"He's a depraved coward is what he is, and he was associated with ISIS, and he was radicalized domestically, and he's a depraved coward," Cuomo said in an interview with CNN.
The 29-year-old Uzbek named Sayfullo Saipov has been suspected of killing eight pedestrians and bikers leaving 15 others injured when he rammed a truck towards them in Manhattan.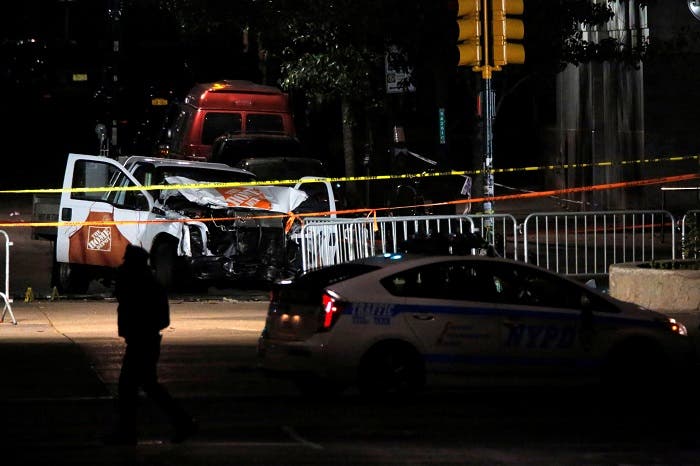 According to the New York Post, detectives are considering that Saipov is an ISIS member after they found a picture of the organization's flag in his truck alongside a handwritten note pledging allegiance in Arabic to the terrorist group.
Saipov was arrested after a policeman saw him leaving the truck with a paintball gun at hand. The terrorist was shot in the stomach eventually leading to his arrest.

Saipov is in hospital undergoing surgery where he is expected to live.

New details reveal that Saipov was originally a resident in Tampa, Florida, however he recently resided in Paterson, New Jersey.

Speaking to the New York Post, a manager at Farm Boy supermarket in Paterson said that he had come to know Saipov as a rather angry and ill-tempered customer. Saipov would frequent the store to buy his necessities.

The manager said that the man would become angry very quickly and would argue with workers at the cash register.
(With AFP)