US elections: Thousands turn up for Trump's 1st public rally since COVID-19 infection
US President Donald Trump attended his first public campaign Monday after flying south to Sanford, Florida, days after being released from the hospital due to his positive coronavirus test.
Trump spoke to an audience estimated to be at more than 5,000, continuing his attacks on Democratic presidential nominee Joe Biden and reassuring his supporters that he "felt fine."
For all the latest headlines, follow our Google News channel online or via the app.
"I'll walk into that audience … I'll give you a big fat kiss," Trump told his frenzied supporters, some of which were wearing masks and others not.
"It's great to be back in my home state, Florida, to make my official return to the campaign trail," Trump declared.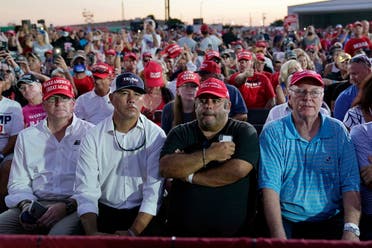 "I am so energized by your prayers and humbled by your support," he said.
His Sanford rally Monday night was his first stop in a busy week, including events in Pennsylvania, Iowa, North Carolina and Wisconsin.
Read more:
Coronavirus: 'I am feeling great,' Trump tells supporters at White House
Trump is 'ready to go,' will see if Florida rally possible, says spokeswoman
- With AP