Sisi visits Suez Canal construction site
Sisi launched the new Suez Canal project under a very tight deadline
Egyptian President Abdel Fattah el-Sisi inspected the progress of work on Sunday of the new Suez Canal project launched last year under a very tight deadline, the Middle East News Agency (MENA) reported.
During his visit he met with Suez Canal Authority Chairman Mohab Mamish, who briefed the president on the project's progress. He also met with workers - including engineers and contractors - at the project, to hear their concerns and he was shown the dredging operations at the canal's new lane.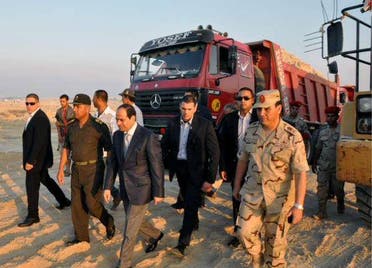 On his way back to Cairo, he checked on the progress of the 85 km Jabal al Halal road which links Ain Sokhna – a town at Suez Governorate - with Cairo's Zafarana.
The Suez Canal is the fastest shipping route between Europe and Asia, and is one of Egypt's main sources of foreign currency.
In a bid to revamp the country's ailing economy, Sisi ordered the creation of a new Suez Canal.
The original Suez Canal, which opened in 1869, took 10 years to build but Sisi decreed that the new waterway be completed in one.
Egyptian officials have said the deadline will be met, and the first ship will navigate through the new canal in early August 2015.