Military moves: Turkey and Saudi Arabia close ranks on Syria
A Saudi official has confirmed that Riyadh has sent warplanes to Turkey's southern Incirlik airbase
A Saudi official has confirmed that Riyadh has sent warplanes to Turkey's southern Incirlik airbase, a move considered as preparation for the campaign against the Islamic State of Iraq and Syria (ISIS).

Turkey's Foreign Minister Mevlut Cavusoglu said: "From the very beginning, Turkey and Saudi Arabia have been in favor of a ground operation in the fight against [ISIS].

"We have been saying in all meetings of the [anti-ISIS] coalition that there should be a comprehensive and outcome-oriented strategy. We have said if such a strategy is implemented, we, as Turkey and Saudi Arabia, can join a ground offensive."

However, Turkish Defense Minister Ismet Yilmaz on Monday said his country was not considering sending troops.

Cavusoglu says if ISIS is eradicated, the world will not have to accept Syrian President Bashar al-Assad as the lesser of two evils.
Turkish troops
In recent weeks, there has been speculation that Turkey might be preparing for an incursion into Syria.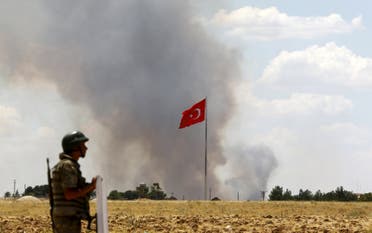 However, Sinan Ulgen, a former Turkish diplomat who now chairs the Istanbul-based Center for Economics and Foreign Policy Studies (EDAM), said this was unrealistic under present conditions.

"It will only happen if the United States gives its support and participates in such an expeditionary land force," Ulgen told Al Arabia English.

"That seems unlikely since the United States doesn't attach the same priority to pushing back regime forces, which seems to be one of the key motivations behind the alleged Turkish-Saudi alliance."

Ulgen says the most likely scenario at present is the Saudi air force participating in the anti-ISIS campaign from Incirlik airbase.
Reaction
Experts say Russian reaction to Turkish-Saudi coordination on Syria will determine the course of the conflict.

Ozgur Unluhisarcikli, director of the Ankara office of the German Marshall Fund of the United States, says a Turkish land operation in Syria - with or without Saudi support - would lack political and military grounds, even if could be justified by international law.

"The Turkish public is against it, and the Turkish military isn't enthusiastic according to a recent report in Turkish daily Hurriyet," he told Al Arabiya English.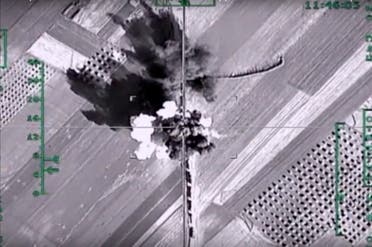 "Russia, Iran and the Assad regime would react very sharply, and there's no reason to think that the United States would welcome such a development."

Unluhisarcikli said the scope, end-goal and exit strategy of such an operation are at best unclear at present.
Bilateral ties
Turkey and Saudi Arabia are part of the U.S.-led anti-ISIS coalition, which officially comprises 65 members. Ankara also grants the coalition access to Incirlik airbase.

Turkey is part of the recently-launched Saudi military alliance, and bilateral military cooperation was boosted in December with a deal to set up a strategic cooperation council.

In January, Turkish Prime Minister Ahmet Davutoglu visited Saudi Arabia, followed toward the end of the month by Turkish Chief of General Staff Hulusi Akar to boost military ties.

"The firm stand of Turkey and the Gulf, led Saudi Arabia, is very important in terms of creating a military counterweight against the Russia-Iran-Hezbollah axis," Mehmet Seyfettin Erol, director of Gazi University's Strategic Research Center in Ankara, told Al Arabiya English.

"The entry of Russia into the battleground has opened the door for other powers to intervene in the region," he said.

"The use of Incirlik by Germany, the UK, Qatar and now Saudi Arabia has a symbolic importance to challenge field control by Russia and Iran."