How Munira Ahmed became an anti-Trump symbol
Lensman Ridwan Adhami said it was important he created an image Muslims can be proud of
Who would have ever figured that a photo captured 10 years ago in response to the 9/11 rhetoric was going to be one of the main iconic photos held by thousands of protesters in the face of the Trump administration so far.
Munira Ahmed, a 32-year-old freelancer from Queens in New York City, became one of the symbols of resilience during the Women's March that took place last Saturday.
Ahmed told Al Arabiya English that the photo was originally taken by New York-based photographer Ridwan Adhami for the cover of a publication geared towards Muslim-Americans, called 'Illume Magazine'.
She said the picture was taken in front of the New York Stock Exchange building which was near where the World Trade Center towers once stood.

"I felt it was powerful and symbolic and necessary at the time, to show we are here, and we are unapologetically Muslim-American," Ahmed said.
Ahmed explained that she felt overjoyed that out of all the photos, this specific one was chosen as the banner for the march.
The photo was chosen by The Amplifier Foundation and illustrated into a graphic image by Shepard Fairey .
Ahmed said to her, it was much bigger than herself, her face, or the flag.
"It's become a new symbol for progress, hope empowerment, and inclusion," she said.
"The message I personally wanted to convey is that a person who is American is no less Muslim than anyone else. A person who is Muslim is no less American than anyone else. These things are not mutually exclusive. In a way, I feel that Americans that are Muslim can be seen as being more Islamic-minded, because here you have the freedom to choose your faith, or change your faith, or not hold any faith, without fear of persecution, and you are still standing tall as a Muslim."
She is the eldest of two daughters, explaining that she is very close to her younger sister. Her father is a pharmacist while her mother is a former travel agent turned activist and community leader.
Ahmed, who is regarded by many as a free spirit and a comedian said she faced discrimination even before Trump's election season.
"Nowadays, the discrimination I face on a consistent basis is whenever I return to America after traveling abroad. While going through customs at the airport, I am always processed for secondary questioning, even though my American passport clearly states this it is my place of birth. I know it definitely has to do with my name being Munira Ahmed," she added.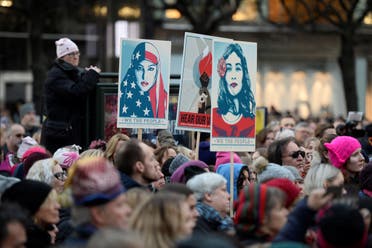 The man behind the idea and the photo
Ridwan Adhami, the man who took the picture 10 years ago, tells Al Arabiya English that to him it was important he created an image Muslims can be proud of, that had a statement and also quality.
"I wanted something that we can be proud of. My intention going into it, was to create something that when people saw it they were like wow, and then to say this came from us, this came from our community."
Adhami said that he believes one of the reasons why this image was so beautiful was they weren't going for a reaction.
"I don't think it was to get a reaction, it was to create something that stood strongly, you know because there is a positive reaction that's why it organically grew and that's why people related to it," he said.
The talented artist said he chose his friend Munira Ahmad as the model because he wanted a brown person that didn't 'project the European version of what beauty was.'
"I feel like she had that right balance between intensity and relatability that people could say I look like her," Adhami explained.
Adhami recalled the incident when Ahmad asked him if she should wear makeup and he told her if she does, to make sure it was very muted and understated.
The message behind the photo
"So initially the message I wanted to get a cross is I am a Muslim and I am an American. And those two are on the same page they are not separate, they are not exclusive to each other, you can have both. You can be American and you can be Muslim and you can be proud of both," Adhami explained with regards to the message he was trying to spread.
He said he felt it made a powerful statement that was instantly recognizable that resonated with people because it did relate.

According to Adhami, he was approached by The Amplifier Foundation, in charge of the We the People campaign, and was asked to submit some of his imagery.
He said he believes it made sense they picked that picture because it is very graphic in its nature to begin with.
"I think it fits the campaign perfectly," he commented.
"Me personally, I'm over the image, I'm over having to make that statement, I'm over having to defend us, I'm over having to say anything or identify with anything. I am at a point where we need to just create good work and good art that tells our story," he said.
Adhami explained that it's sad that this is relevant once again.
"At different points in the past 10 years it has popped up in relevancy," he added.