A community college student in Aden was arrested and tortured with electric wires but was then released without charge, activists told Al Arabiya English.
Born in Taiz but raised in Aden, Asim Saeed Ali was in his fourth year at a community college in the southern port city when he was arrested.
The arrest took place late last month near a construction site in the city. Detained at 12pm on March 25 and released at 3am the following day, Ali allegedly suffered 15 hours of torture, activists reported to Al Arabiya English.
Images showed heavy scarring of Ali's back after being whipped with electric wiring. He was later released with no charges.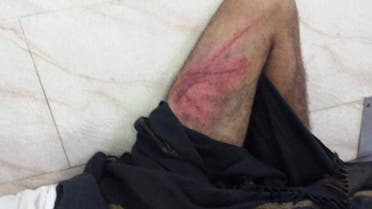 Authorities did not give reasons for his detention, however activists have called on the government to investigate the matter – yet no action has been taken.
Since the turmoil began in Yemen, with the Houthi militias attempted a coup against President Abdrabu Mansur Hadi's government in Sanaa in September 2014, instability has triggered a security crisis in Aden.
Amid a severe economic and humanitarian crisis, suicide bombings and assassinations - mostly by al-Qaeda and the ISIS group's local affiliate – have disrupted everyday life for residents in the city.