Many Egyptians do not know that this Egyptian woman - Coptic Saint Verena - was buried in Europe in the fourth century. Many historians consider her the mother of nuns in Europe. She died in 344 AD, a church was built over her body in Switzerland. 70 churches in Switzerland and 30 churches in Germany bear her name.
Verena, whose name means 'the good fruit', is originally from Garagous near Luxor. Her icons are always drawn uniquely. In one hand, she holds a jar of water and in the second a comb because it is she who taught the Germanic and the Gaul the traditions of personal hygiene and herbal medicine. She succeeded with her love and dedication in attracting the pagan cruel Germanic people to faith and civilization while the swords of the Romans failed.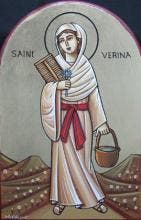 Her story dates back to the time of the Roman Catholic pagan King Diocletian, who came to Egypt at the end of the third century, and was well received by the people who honored him with a monument in Alexandria that still exists now. The Diocletian's army was fighting a fierce war in Gaul so he wanted to take Copts from Egypt for back up. He gathered 6,000 young men and formed an army called the Theban Legion (in reference to the city of Thebes, the ancient Pharaonic capital)
The Egyptians showed great courage in fighting the enemies of the king until he triumphed. Diocletian ordered that celebrations be held and that soldiers burn incense to his status as the victorious king of God. But the Copts of the Theban Legion refused to worship the king and burn incense to him. They believed in one God. The king was so angry he ordered the battalion to stand in rows. The executioner swarmed between them. After counting nine soldiers, the tenth man was whipped and he was beheaded, but the rest held on to their faith even more. At the end, they were all slaughtered because they didn't give up their faith.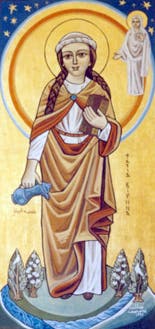 Verena was a Coptic virgin who accompanied the battalion to prepare food and treat the wounded. Although she saw her family massacred, she fled and remained in exile. She lived in a cave and taught the pagans the rules of personal hygiene and medicinal herbs. She was knowledgeable about the origins of ancient medicine inherited from the pharaohs, which helped her treat the patients. The literature of the Egyptian Church describes says of her: "she met the abuse with love and blood with sacrifice so God awarded her a healing touch. She was the reason for the initiation of proselytizing Christianity among the people of the region. Love has won over the sword, and the blood of Martyrs over the arrogance of kings. The jar and comb of Verina triumphed in the face of Tsars."