The sun is searing at noon as pilgrims complete their final major rite of the Hajj pilgrimage by the symbolic stoning of the devil in Jamaraat.
Immediately afterwards male pilgrims head to an adjoining street where licensed barbers are stationed ready with shaving machines at hand. Absent this year are the razor blades of years' past.
"Please, can you shave me with a razor blade? I'll bring one myself if I have to. I was told it had to be done with the blade," Pakistani pilgrim Mohammed Azghar could be heard pleading to Youssef Mohammed, a Saudi barber.
Final rites
Millions of Hajj pilgrims who spent the whole of Thursday night in the open sky offering prayers in Muzdalifah proceeded to Mina after Fajr prayers on Friday morning, the first day of Eid al-Adha.
After reaching Mina, they performed the stoning of the Devil at Jamarat Al-Aqba, sacrificed animals in their final rites of this years' Hajj.
Men then shave their heads or trim their hair while women cut a fingertip-length of their locks. After that, they end their wearing of the ihram and change back into normal clothing.
Letting go of the razor blades
According to authorities, all licensed barbers this year had to scrap shaving pilgrims' heads with razor blades partly for efficiency, and the other because of health reasons.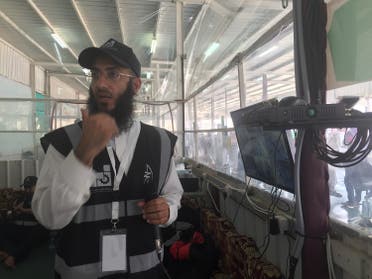 "In years past, we allowed the use of razor blades but as more fear of diseases pop up and risk of Hajjis bleeding from their head, we decided to ban close-shaving," Saqer al-Ghamdi, the supervisor of barbers trained by Saudi Arabia's Technical and Vocational Training Corporation, told Al Arabiya English.
"It also has to do with efficiency and moving through the number of pilgrims who wish to shave their heads completely. With a razor blade, the barber takes more time and is preoccupied with not cutting or slitting too close to the scalp".
"With a shaving machine, the whole process takes five minutes," he said.
However, a close five-minute walk from the barbers' station lies scraps of what appears to have been shaven hair. When asked why it was so, officials told Al Arabiya English that illegal and unlicensed barbers looking to make some extra seasonal cash were at the scene moments earlier. They were duly stopped by security officers and their equipment were confiscated.
Vocational training
For many young Saudi men, learning vocational training like the barber trade comes as a lift in their job prospects. All the barbers licensed by the Ministry of Hajj and Umrah were hired by young Saudi men from the Technical and Vocational Training Corporation this year.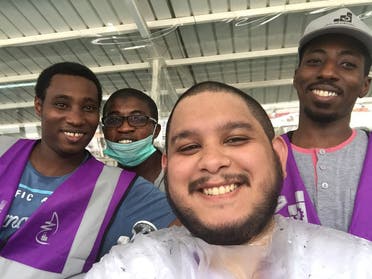 "I'm a native of Mecca and serving pilgrims each year comes natural to us. In the past, many young men were forced to work in other jobs selling water or cooking meals for the pilgrims but shaving pilgrims' heads is much better as it is a trade I can learn from and hopefully work outside of Mecca during the off season when Hajj is not in play," Abdulrahman Ibrahim, a Saudi barber at the station, told Al Arabiya English.
This article was part of our 2017 Hajj coverage.