Saudi Arabia has the largest number of sites registered by UNESCO in the Middle East, according to Dr. Ibrahim Al Balawi, the kingdom's permanent delegate to UNESCO.
Saudi Arabia has 10 sites registered in the World Heritage Site and in the Intangible Cultural Heritage lists.

Sites registered in the UNESCO World Heritage Site are Mada'in Saleh, listed in 2008, At-Turaif District in ad-Dir'iyah, listed in 2010, Historic Jeddah, listed in 2014 and the Rock Art in the Ha'il Region, listed in 2015.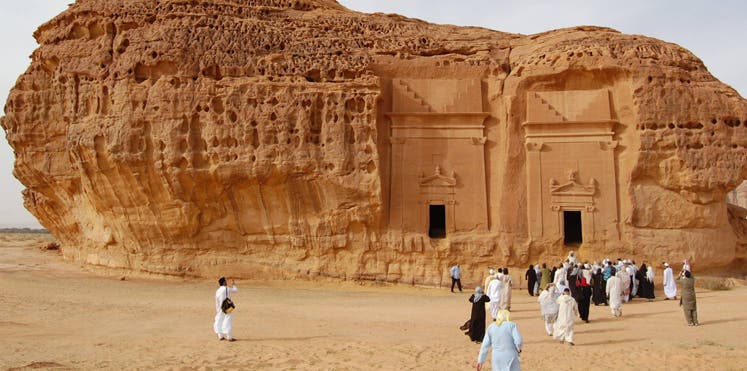 As for those listed in the UNESCO Intangible Cultural Heritage Lists, they are falconry, listed in 2012, majlis, listed in 2015, Arabic coffee, listed in 2015, Alardah Alnajdiyah, listed in 2015, Almezmar, listed in 2016 and Al-Qatt Al-Asiri, listed in 2018.

So what is the significance of these sites and heritages listed by UNESCO?

Mada'in Saleh, also called Al-Hijr, is an archaeological site in Al-Ula in Medina and that's well-known for its strategic location.

At-Turaif District in ad-Diriyah represents a prominent national symbol in the kingdom's history as it is associated with the first Saudi State. Since the old city of Diriyah lay on the banks of Wadi Hanifa, it helped create positive interaction between man and his environment. Diriyah thus become a model of oasis communities in deserts.

Al-Balad's (Historic Jeddah) history dates back to pre-Islam eras. There are several archeological sites and buildings there such as the ruins of Jeddah's wall and historical alleys and markets.

The Rock Art in the Ha'il Region include two components, Om Sinman Mountain in the city of Jubbah and al-Manjor and Raat in Al-Shuwaymis. In the past, there was a lake in the area of the Om Sinman Mountain and the people who lived there left plenty of petroglyphs about their lives. Al-Manjor and Raat were valleys. People who lived there also left petroglyphs that date back 10,000 years.

Al-Qatt Al-Asiri, a female traditional interior wall decoration, is an art technique carried out by women in the community that involves decorating the interior walls, specifically in rooms for visiting guests.

Majlis (sitting places) are community spaces where people discuss local issues, settle disputes, exchange news and be entertained.

Falconry, which originally was a way to obtain food, has evolved to be more associated with conservation, cultural heritage and community engagement.

Arabic coffee is a symbol of generosity. Serving Arabic coffee is an important aspect of hospitality in Arab societies. Traditionally prepared in front of house guests by men and women, it is also served by sheikhs and heads of tribes.

Almezmar, which includes drumming and dancing with sticks, is a traditional practice of the Hijazi community performed for family celebrations or national events.
Alardah Alnajdiyah is a traditional cultural expression combining dance, drumming and poetry chanting.