Imran Khan, Pakistan's cricket star-turned politician, is all set to become nuclear armed nation's next prime minister. But how his rise to power will influence the security situation in Pakistan, Afghanistan and South Asia, remains to be seen.
Khan, 65, known for speaking his mind, won hearts in New Delhi, Washington and Kabul simultaneously as he expressed his desire to play role in bringing peace in neighboring Afghanistan, resume talks with arch-rival India and establishing warm ties with the Trump administration, which is striving hard to maintain law and order in war-torn Afghanistan.
"Afghanistan has suffered a lot in the war on terror. Peace in Afghanistan is in greater interest of Pakistan. We will work with the world and Afghanistan leadership to bring to ensure peace in Afghanistan", Khan said after his party won majority seats.
Renewing its approach to bring peace to Afghanistan, Trump Administration has vowed to negotiate with Taliban signaling green to reduce, or even eliminate, its military presence in the country.
Interestingly, Imran Khan has expressed support for such a strategy during his speech last week and has been calling for talks with Taliban for several years.
"If there is peace in Afghanistan, there will be peace in Pakistan. People of both Pakistan and Afghanistan want peace in Afghanistan. We have to ensure that" Khan said, unveiling salient features of his foreign policy.
However, it is yet to be seen how Khan, who has been an outspoken critic of the US led war in Afghanistan and its controversial drone operations across the globe, plans to proceed.
Most important question is how his rise to power will influence the security situation in Pakistan and Afghanistan. Given his excellent relations with Afghan Taliban, can he play a role in bringing peace?
Trump and Islamabad
Many believe Khan's stance against the US' role in Afghanistan will be a hurdle in the Trump administration's dealings with Islamabad. He promised to shoot down US drones if he was elected prime minister. However, for now, both the United States and Imran have vowed to work together.
It is believed that Khan can play a vital role in bringing Taliban and the US to sit across the table and ensure long lasting peace in Afghanistan.
Key politicians of Imran's political party also believe Khan has sound knowledge of the situation on the ground in Afghanistan and is determined to play his role in bringing peace.
"He has the team and the experience suited to handle the Afghan challenge. So, when it comes to Afghanistan, Imran as prime minister will be a blessing for the world," Fawad Chaudhry, his party's spokesman, told reporters.
His victory speech sent the right signals across the war-torn Afghanistan where prominent figures well as officials welcomed his statement.
Proposing the two countries to embrace a "European Union" type of relationship, Khan hinted "an open border policy" with Afghanistan. The plan, however, seems highly unlikely.
"He can bring Taliban to the table and we need him to get rid of years-long war," Abdullah Shah, an Assistant professor of International Relations in a local university in Kabul told Al Arabiya English.
Khan scored a brownie point last week after the United States stated it look forward to work with new government in Pakistan to advance the goals of security and stability in South Asia.
"The United States will look for opportunities to work with new government in Pakistan to advance our goals of security, stability, and prosperity in South Asia," the spokesperson of US state department said.
However, Khan may turn his back on Washington if the Trump administration continues with its existing policy in Afghanistan.
"Both Trump and Imran can work wonder in Afghanistan. While Imran can help brig Taliban across table, Trump can convince the world to change attitude towards them," Ijaz Ahmed, Islamabad-based foreign policy expert said.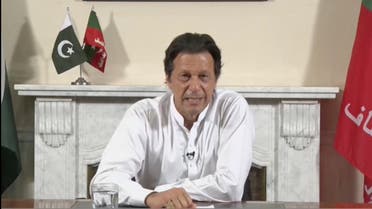 India front
On the other hand, Imran Khan has made it loud and clear that his government will be "ready for talks" with arch-rival India which is also a stakeholder in Afghanistan.
"If they take one step toward us, we will take two steps toward them," Khan said during his maiden speech, drawing a positive response from India.
"India desires a prosperous and progress Pakistan at peace with its neighbors," a spokesperson of India's Ministry of external affairs said on Thursday, last week.
On Saudi Arabia, which also has great influence in Afghanistan, and South Asian, Khan said Pakistan has always found Saudi Arabia close to his heart.
"Saudi Arabia is one of Pakistan's great friend which has always helped Islamabad through thick thin," Khan said. Unveiling his future plan, Khan vowed to bridge the gulf between Iran and Saudi Arabia.
"Iran and Saudi Arabia are two important Muslim countries. We will play our role to bring them closer," a determined and confident looking Khan said.
Limits to ambitions
Aamir Ghauri, Islamabad-based editor of influential daily The News International believes there is a limit to what an elected Pakistani civilian head of government can do in relation to Afghanistan.
"Imran Khan will not be any different from Nawaz Sharif or Benazir Bhutto. His diplomatic skills are untested and his campaign rhetoric ran parallel to what any government in Kabul would like to hear from a Pakistani prime minister," Ghauri told Al Arabia English.
For decades now, he said, Pakistan's Afghan policy has largely been run by powerful institutions other than the Foreign Office.
In short, it would be a miracle if Mr Khan went a few inches beyond cosmetic posturing.