Al Jazeera accuses MBC of 'normalizing ties with Israel' despite its own track record
Al Jazeera has launched a media campaign against the MBC Group in recent days, claiming the pan-Arab media group has been pushing a "normalizing of ties with Israel" through its Ramadan television series – despite Al Jazeera and its Qatari owners' past record with Tel Aviv over the years.
Al Jazeera has long operated a bureau from Israel and has been accused of normalizing relations including by hosting members of the Israeli Defense Forces and other Israeli guests on its channel. Likewise, the Qatari government has also hosted Israeli officials in its territory.
The Al Jazeera Media network has long had disparities between its Arabic and English language news channels, with the former being accused of taking a more anti-Semitic and anti-Israeli editorial line. Those editorial discrepancies were highlighted last May when the network's Arabic AJ+ platform claimed that Jews exploited the Holocaust, exaggerated the death toll, and that Israel is the genocide's "greatest beneficiary"
Despite this history, Al Jazeera has launched a campaign depicting two shows currently being aired on MBC as normalizing ties with Israel – one a historical drama about a Jewish midwife, the other a single episode discussing Saudi Arabian views on the Israel and Palestine conflict.
Al Jazeera shared several clips from the shows on Twitter, including one posted on April 29 with the caption "Calls for normalization in Saudi shows…A media oversight or political strategy?"
"Makhraj 7 and Umm Haroun, the Ramadan series with a hint of normalization with Israel," Al Jazeera said alongside another video posted on May 3.
Show one: Umm Haroun
The first series to garner criticism is Umm Haroun, a period drama about the trials of a Jewish midwife based in an unnamed Gulf country during the 1930s to 1950s. Although Umm Haroun is fiction, it took its inspiration from the real-life story of Umm Jaan, a Bahraini Jewish woman who was a midwife in the island Kingdom credited with playing an important role in the early days of the health care establishment in Manama.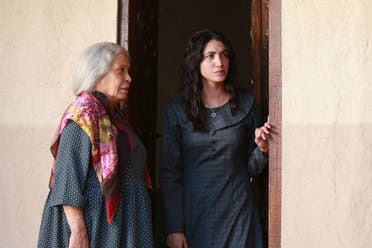 MBC Group issued a statement earlier this month saying that the fictional drama Umm Haroun has no political intent and is aimed at showcasing the region before sectarianism.
"The fictional drama series bears no intent to associate with the current political climate. Instead, the message of the series focuses on tolerance, moderation, openness, and coexistence; showcasing a region before sectarianism," MBC Group said.
MBC Group spokesperson Mazen Hayek said that the debate has been taken out of context.
Also read: MBC Ramadan series 'Umm Haroun' explores Jewish roots in the Gulf region
"This is a drama series based on a Jewish woman who treated both Christians and Muslims in an unnamed country in the Arab world at one point in time. We never claimed to be presenting a political show or docu-series," Hayek told MBC's Trending show.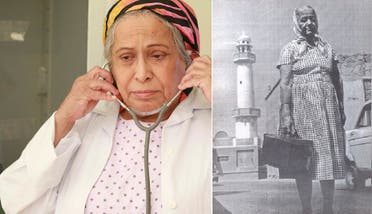 "At the end of the day, MBC had invested and will invest in stories and creative content such as Umm Haroun which showcases the possibilities of tolerance and interfaith dialogue rather than the stereotypical narratives of wars, conflicts and destructions that has become expected of the Middle East," he added.
Show two: Makhraj 7
The second controversy has centered on Makhraj 7 (or Exit 7)'s third episode, which showcased viewpoints from everyday Saudi Arabians about Israel and the Palestinian cause.
One clip, taken out of context, shows a conversation with one of the protagonist's father-in-law, Jabir, who claims he has no issue with Israel and that "the real enemy are those who take us for granted."
Much of the episode, though, centers around the complex viewpoints on Israel and Palestine, with star Nasser al-Qasabi's character Dokhi quickly stressing on the moral obligation to reject the Israeli occupation of Palestinian lands.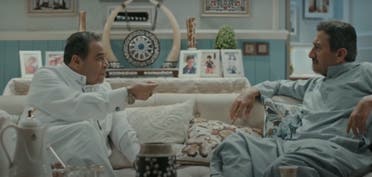 MBC also pointed out that its shows are not afraid to deal with controversial political situations, including topics such as ISIS.
"This is not the first time MBC is receiving criticisms for its bold choice of content. We received widespread criticisms when we decided to tackle extremisms and ISIS during our Selfie television show a few years ago too," said Hayek.
Al Jazeera's history of hosting Israelis
Al Jazeera's accusations against MBC come despite the channel's slogan being "The Opinion and The Other Opinion" – and despite its own history of hosting officials both on its air and in Qatar.
When it first launched in 1996, Al Jazeera became one of the Arab channels to open and maintain a bureau in Jerusalem and an office in Tel Aviv and appoint its own correspondent in Israel.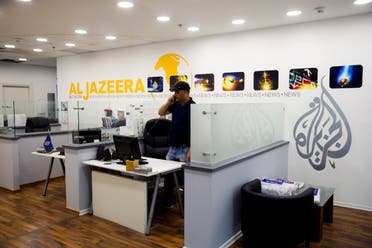 Al Jazeera's own correspondent subsequently defended the channel's role in normalizing the appearance of Israelis on Arab television, writing in an Israeli newspaper when Israeli authorities threatened to ban it.
"When Al Jazeera first hit the airwaves in 1996, most Arabs had never seen the face of an Israeli on Arab TV," head of Al Jazeera in Israel Walid al-Omary wrote in an opinion piece for Haaretz in 2017.
"Ironically, when Al Jazeera first launched it was seen by Arab audiences and regimes as being a channel created by Israelis, since it hosted Israelis and gave a voice to their opinions," he wrote.
Over the years, both Al Jazeera's Arabic and English channels have hosted Israeli guests, including the likes of former Israeli foreign minister, vice prime minister, minister of justice Tzipi Livni, former senior advisor to Ariel Sharon Raanan Gissin, Israeli career diplomat Mark Regev, and Minister of Defense Naftali Bennett, among others.
Al Jazeera providing a platform for the Israeli Defense Forces
In more recent times, Al Jazeera caused widespread controversy in February 2018 when its popular program The Opposite Direction hosted by firebrand anchor Faisal al-Qassim hosted Israel Defense Forces spokesperson for Arabic Media Avichay Adraee.
Adraee boasted at the time for being the first IDF to be on al-Qassim's program.
"For the first time, an IDF officer participates in The Opposite Direction program on Al Jazeera. I will tell viewers in the Middle East that wherever there's corruption and evil, we find the hands of the Iranian Quds Force. And I will talk about Israeli air superiority despite the funny celebrations that we saw in Damascus. Watch me," Adraee said in a tweet at the time.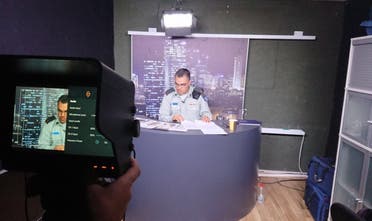 Al Jazeera's website has also been accused of pro-Israel censorship. The controversy emerged when an op-ed by Columbia University professor Joseph Massad piece titled "The Last of the Semites," originally published on May 14, 2013, was deleted by higher management.
The op-ed was deemed by many critics as anti-Semitic. However, many anti-Israeli observers at the time said the censorship was bowing to pro-Israeli pressure as the network was attempting to launch the now-defunct Al Jazeera America television channel.
Israeli officials in Doha
Al Jazeera's hosting of Israeli officials is in line with similar moves by Qatari government officials in Doha over the years.
Israeli Vice Prime Minister Shimon Peres arrived in Qatar in 2007 where he spoke to students at Georgetown University's branch campus in Doha.
Peres' visit to the campus in 2007 was not his first, having received an official state visit in 1996 by then Emir Sheikh Hamad ibn Khalifa al-Thani while he was serving as prime minister of Israel.
University campuses in Doha have also welcomed Israelis.
Georgetown, part of the Qatar foundation which hosts several US universities on its Doha campus, would be "open to students of all races, nationalities and sexes; we accept people based on their individual capabilities and are looking for students from all over the world – including Israel," said its founding dean at the time of opening, Dr. James Reardon-Anderson.
Actors, Twitter users urge viewers to watch Umm Haroun before judging
Returning to MBC's Umm Haroun, the target of the accusations, both the show's actors and viewers on Twitter urged people to watch the series before making judgements.
"I am proud to say that I am among the family of this [series], of this huge historical Arab Gulf series, Umm Haroun. It is enough that this [series] stirred debate before it was aired and while it is airing," Emirati actor Ahmed al-Jasmi told Al Arabiya.
"To those who speak, write, and publish a lot about the work when you have not seen a single scene … I invite you to watch the entire show then judge it so you do not wrong the series and those who took part in it," the actor wrote on his Instagram page.
"The work is presented openly, and we have completely differentiated between Jews and between Zionists. And it is completely clear in the show, and it will also be clear in the upcoming episodes," added Saudi Arabian actor Abdulmohsen al-Nemr, speaking to MBC's Tafa'olkum show on April 26.
Social media users were also quick to point on that while the series is fictional, Jewish communities were present in countries across the Middle East.
"[It is] certainly a debate our societies must have, not only by showcasing stories of tolerance, but understanding the Jewish community, this is one story told, there are many, whether it be from the Jewish community or the Palestinian one, it should not make a difference," one Twitter user said.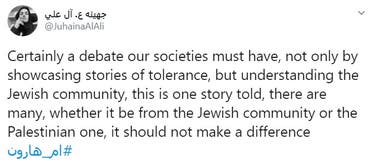 "Before watching Umm Haroun just remember to accept the fact that there are other religions in the world different than your own," another user tweeted.