Photographer defends 'pro Assad' U.N. exhibit
'I just photograph the suffering of the people,' Vanesian said in comment to remarks made by the Syrian opposition representative to the U.N.
A Syrian photographer has defended pictures being displayed at the United Nations headquarters after the collection came under fire from the Syrian opposition representative to the U.N., the Associated Press reported.
The U.N. representative of the opposition Syrian National Coalition Najib Ghadbian called the photographer behind the new exhibit, Hagop Vanesian, a propagandist, saying that he at times has been embedded with Syrian forces in Aleppo.
"I just photograph the suffering of the people," Vanesian told the Associated Press in response to Ghadbian's remarks.
"My Homeland," sponsored by the Syrian government, opens on Thursday and will display photographs of a ruined Aleppo, including captions that mention "terror groups." Syrian authorities refer to those trying to topple President Bashar al-Assad as terrorists.
However, Vanesian added that Western countries have also listed some of the groups fighting inside Syria as terrorists.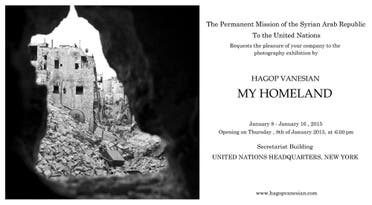 The U.N. secretary-general's spokesman had no immediate comment on the letter from Najib Ghadbian asking the U.N. to "correct this grave mistake." A spokeswoman for Ghadbian, Katie Guzzi, said they had not had an official response from the U.N.

Ghadbian said the photos paint Syria's government as a victim, not an aggressor.

The fighting in Syria that began with protests against Assad in 2011 has killed more than 200,000 people and forced millions to flee. U.N. Secretary-General Ban Ki-moon has accused both the Syrian government forces and opposition forces of targeting civilians, though former U.N. human rights chief Navi Pillay last year said atrocities by the Syrian government "far outweigh" crimes by opposition fighters.
In a phone call, Vanesian told the Associated Press his work is "humanitarian" and said he's not a politician.

Vanesian, who was born in Aleppo and has been a volunteer photographer with the aid group Syrian Arab Red Crescent, said he left the divided northern city eight months ago. Last summer, he posted photos on Facebook of him shaking hands with Syria's ambassador to the U.N., as well as black-and-white portraits of the ambassador, Bashar Ja'afari.

"The war in Syria changed my life but not my principals," Vanesian's Twitter profile says.