Saudi Arabia's AlUla launches 12-week Artist Residency Program with six new artists
Saudi Arabia's Royal Commission for AlUla (RCU) launched its latest Artist Residency Program, which is set to run until December, with six new artists to play a role in the transformation of the ancient city.
The program aims to foster collaboration between the artists in residence and the scientific community on the ground in AlUla.
For the latest headlines, follow our Google News channel online or via the app.
The six artists include Saudi nationals Mohammad al-Faraj and Daniah al-Saleh, as well as Emirati artist Dr. Afra Atiq, Moroccan-Canadian artist M'hammed Kilito, French-American artist Sabine Mirlesse, and Filipino artist Augustine Paredes.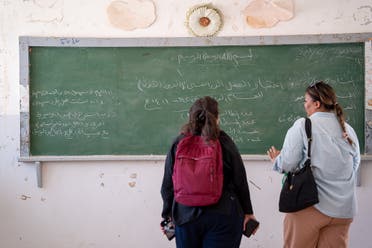 Shortlisted from a group of 16, and an original list of 35, the six new artists were selected based on their experience and technical ability, alongside their initial research projects, alignment with the RCU and AlUla's objectives, and their ability to work in an unusual environment, the RCU said in a statement on Tuesday.
The artists' applications were evaluated by a judging panel which included the RCU's executive director of arts and creative industries Nora al-Dabal; the commission's creative opportunities lead Ali al-Ghazzawi, its creative opportunities lead; artistic programming director Sumantro Ghose; Sultan Sooud al-Qassemi, founder of Barjeel Art Foundation; Iwona Blazwick, Chair of the Public Art Expert Panel; and Arnaud Morand, Head of Innovation & Creation, the French agency for AlUla development Afalula.
"We are thrilled to unveil the participating artists to this new residency program. With this opus our intention is to enable creatives to research, to explore the unlimited possibilities of AlUla rather than focusing on production per se," Morand said.
"The originality of our initial residency program relied in co-operation between artists with the impressive array of scientific experts working in the Oasis. This new adventure will build on this collective knowledge and explore further the exchanges with AlUla local communities. We want to nurture mutual inspiration between local narratives, skills, endemic knowledge, and artistic practices through a variety of mediums and approaches, from visual art to poetry."
Blazwick said that the program offers the six chosen artists a unique opportunity.
"The artist residency program will give these six artists the most precious commodity of all, which is time. It's an opportunity to leave everything they are familiar with behind, and in turn negotiate a place and community that is completely new," she said.
"The ambition is twofold - to create dialogue that transcends geo-politics and cultural differences, and to see what happens when you invite someone from outside into this rich environment."
Also commenting on the announcement, al-Ghazzawi said he expects the new program to "further the transformation of AlUla into a globally-renowned center for art and culture and a hub for creativity."
Read more:
AlUla inks agreement with Louvre Museum to show Saudi Arabia's cultural legacy
AlUla: Birth of Arabian Leopards marks new milestone in push to restore biodiversity
Saudi Arabia's AlUla welcomed over 146,000 visitors in 2021 alone