Arab YouTube star appointed by UN to fight for gender equality
Hayla Al Ghazal told Al Arabiya English she is now on a mission to empower females in the region
Syrian Hayla Al Ghazal, one of YouTube's rising Arab female stars, says she is all ready to bring about positive change to her community and inspire more females to express themselves on social media in a bid to shatter cultural taboos.
Having produced more than 150 videos for her YouTube channel HaylaTV, the Dubai-based vlogger is famous for her comedy sketches and lifestyle clips that attract thousands of young people in the region.
Speaking shortly after being appointed a "change ambassador" to the United Nations, Ghazal told Al Arabiya English she is now on a mission to empower females in the region to use platforms such as YouTube to express themselves.
The appointment is part of a new partnership between YouTube and the UN to select rising female YouTubers to fight for gender equality.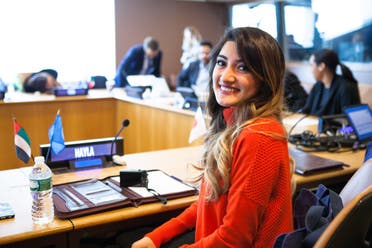 She said her year-long appointment, which comes ahead of International Women's Day, will encourage young women to find their own sources of happiness and to raise awareness to eliminate discrimination against women.
The 20-year-old was the only Arab among the first batch of female YouTube stars to be chosen to act as "change ambassadors" from around the world.
"It's not a position you nominate yourself for, YouTube and the United Nations were selecting personalities who have made change or had an impact on their society or region they live in," said Ghazal.
The nominees were mainly chosen based of their personalities and the impact they have on their societies, she explained.
How did she make it?
Ghazal runs the largest female Arabic YouTube channel in the Middle East, according to the video-sharing website.
Boasting 656k YouTube subscribers, Ghazal enjoys uploading lifestyle and entertainment videos such as tips on how to spot a liar, and she pokes fun at her mother's reactions in front of guests.
She started working at the age of 15, taking a part-time job at a fashion agency and acted in several TV commercials. She graduated with a bachelor's degree in business marketing, and runs two bridal and evening gown boutiques in Dubai.
She told Al Arabiya English she was always keen to step out of her comfort zone and transform her personality from a shy teenage into a confident young lady.
When she started vlogging more than two years ago, her aim was to encourage her followers to find "their own sources of happiness."
"My videos spread positivity and this is kind of who I am, and this becomes the personality of everyone who joins the channel as well."
"My message is to encourage girls to use technology because we are a lucky generation to have access to internet and use mediums available to us."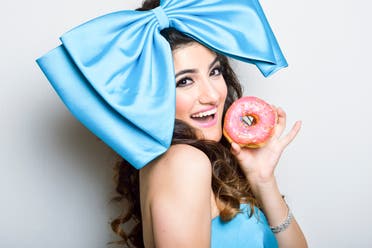 In terms of demographics, Ghazal says almost 50 percent of her audience comes from Saudi Arabia.
The channel's biggest fan base falls in the age bracket of 18 to 23, she said.
A wide variety of subjects are discussed in her videos, she told Al Arabiya English.
"My channel is very personal, as I change, my videos change. It is very personal relationship that you have between the videos you create and the people who watch them."
While her parents and friends are very supportive of what's doing, some web users give Ghazal a "weird look" - as she likes to describe - for creating videos and acting sketches.
"The content of my videos is innocent and not controversial so it is never offensive to anyone."
"But there are people who sometimes respond negatively to my videos by criticizing my appearance," she said, but these make up a small fraction of her audience, she added.