Half of Saudi women don't perform any physical activity
Half of the Saudi Arabia's females and 33 percent of males do not perform any form of physical activity, according to a survey
A survey conducted by the Ministry of Health in Saudi Arabia has revealed that around half of the country's females and 33 percent of males do not perform any form of physical activity.
The survey's results, published in the Saudi-based newspaper al-Eqtisadiah on Sunday, also showed that around 29 percent of females and 29 percent of males perform light physical activity.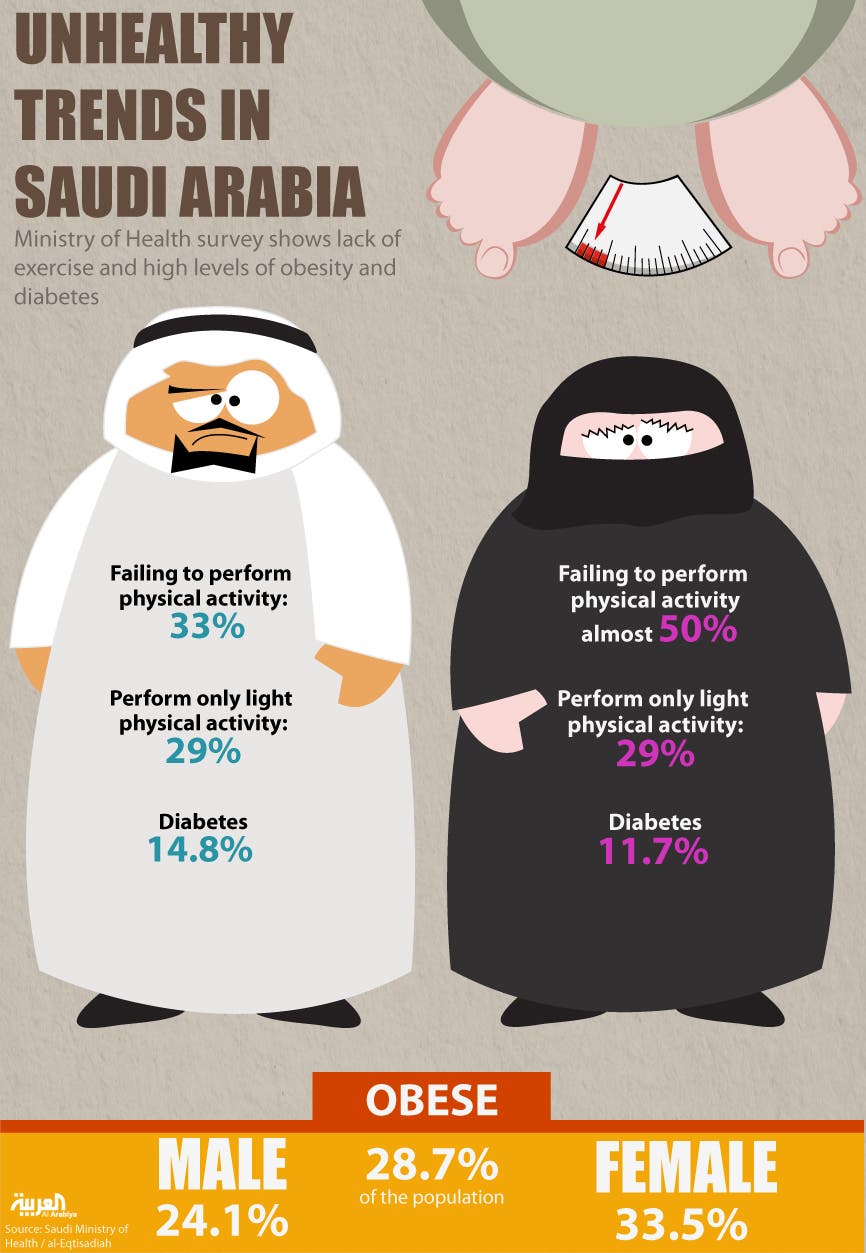 The survey was conducted in tandem with Washington University and draws on a sample "representing Saudi community," according to a statement on the Ministry of Health's website. The sample was comprised of persons over the age of 15 years.
The minister of health, Abdullah bin Abdulaziz al-Rabeeah, pointed out that "obesity, diabetes, hypertension, high cholesterol level, as well as smoking are among the most outstanding risk factors," Saudi society faces, according to the official website.
The study results showed that the diabetes spread rate reached 13.4 percent. According to the study, 14.8 percent are males and 11.7 percent are females. The survey showed that 1.1 million males in the kingdom have been diagnosed with diabetes, while 775,000 females are afflicted with diabetes.
Regarding obesity, the survey revealed that the percentage of those with obesity stands at 28.7 percent. "The females registered the highest rate of 33.5 percent, in comparison to 24.1 percent of males," according to the report.
As per the study, 1.16 million males in the kingdom have hypertension, as do 705, 000 females.
Dr. Miqdad, of the Institute for Health Metrics and Evaluation at Washington University, expressed surprise as the findings, in a statement published on the official website.
"I was surprised at noticing that in a country where the health services are provided for free and within everyone's reach, yet, the preventive service advantages are not turned into account. Further, citizens only visit the doctor when they get ill."
However, Saudi Arabia licensed women's sports clubs for the first time in 2013, al-Watan daily reported. In 2009 a member of the country's highest council of clerics said girls should not play sports lest they "lose their virginity" by tearing their hymens.
Also, state-run girls' schools did not have exercise classes until recent years.
"Despite promises from the authorities to introduce physical education classes at girls' schools, the gap between sports facilities at boys' and girls' schools is still immense," the Saudi Gazette reported in January.