The media entrepreneur behind Egyptian satirist Bassem Youssef has turned to YouTube to find the next generation of Arab stars, and seeks to raise investment to fund his massive online talent-hunt.
Bassem Youssef shot to fame with his wildly popular show "El-Bernameg," or "The Program", which often poked fun at authorities such as the former president Mohammad Mursi. The show was suspended on Friday for mocking Egypt's military establishment.
Tarek El Kazazz, chief executive of the QSoft Group, which produces and owns the rights to El-Bernameg, says he is scouting for more stars across the Middle East and North Africa.
"There can be other Bassems and it doesn't have to be political – it could be social satire, lifestyle, cooking, sports, whatever," he told Al Arabiya.
"We can definitely get someone like [Youssef] in sports… so let's say over the next three years [we're looking for] maybe another three Bassems in different genres."
Qsoft is launching a YouTube-based platform called the Tube Star Network, which will invite thousands of people to submit videos, El Kazazz said. Those shortlisted will be nurtured and developed, with the potential to create online pilots and raise money through advertising.
QSoft is one of YouTube's biggest partners in the MENA region, with its 1.5 million videos having gained more than 4.5 billion views. It model is to create online-only shows, with a few transferring to mainstream television, as was the case with Bassem Youssef.
Maha Abouelenein, head of communications for Google in the MENA region, confirmed QSoft's popularity on YouTube, which is owned by Google. "They are one of the largest partners in MENA and they pioneered how to grow and build you audience on YouTube," she said.
QSoft is in the process of raising investment to fund the Tube Star Network, El Kazazz said. "We actually are raising money… for the idea of the Tube Star Network," he said. "We are approaching big media players from Silicon Valley and from the region."
MBC Ventures, the venture-capital arm of MBC Group, has already invested in QSoft. Al Arabiya News is also part of MBC Group.
El Kazazz, speaking to Al Arabiya in October, explained how he hopes to find a new generation of stars from the Arab world and beyond.
Q&A with Tarek El Kazazz, chief executive of the QSoft Group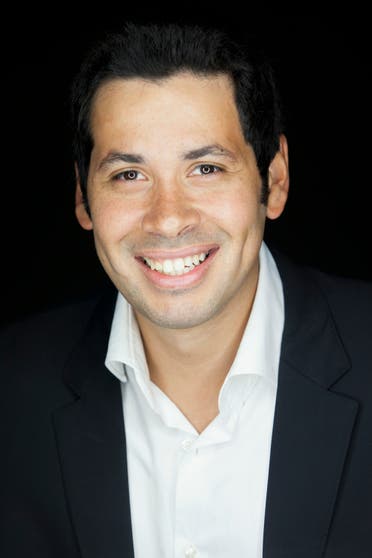 Q. Tell me about what QSoft does.
It's about discovering talent on the internet. Since 2009, we have been the biggest YouTube partner in the whole region… in terms of revenues and viewership. We commissioned other people's content and licensed it, and put it on YouTube, and we did monetizing for revenue share. We were the middle men between YouTube and the actual content owners.
Q. So you made money through YouTube?
Yes. This wasn't even official back [in 2009]: they gave us limited access to advertising and our rate card was as low as 30 cents for every 1,000 views, and we made $1,000 a day.
So Google told us back then: "okay there is potential there… so guys, let us help you." We told them we need to create our own original content and we want to produce content for the internet, to actually sustain and be completely independent on the internet. This was the main goal.
So I went out to look for production partners [and told them we] are going to go and seek advertisers for the internet, and we're going to go to TV networks later on and tell them "guys, we have content that has strong followership… we want to upgrade this content from the internet to a TV format."
Very few people believed me back then that anything was going happen, so I had to do it on my own. This is when I called up Bassem [Youssef], gathered the little money that I had back then, and I told him … 'I think you can be good in front of the camera.'
Q. So do you own the rights to the Bassem Youssef show?
We own everything that has to do with just Bassem. We own the rights of the show, his advertising, book deals, his tours. We handle everything all the way from Al-Bernameg to his taxes. And he does it with love; he likes working with us because we really take good care of him.
Q. What's next after the rise of Bassem?
We devised this new brand that we just launched, 'Tube Star Network'. This was actually intended from day one, because Bassem was not a fluke, Bassem was part of an elaborate production plan that we wanted to make. Bassem went really big, so we took him as a prototype to prove we can do what we are set up to do. So what do we want to do? We want to go out [and tell others] "you guys, you can be stars… give me a two-minute video and I can do wonders with it."
Q. Is this on YouTube or another platform?
YouTube is our platform of choice from a technology point of view. YouTube love it because [our network] gets seen by 30 million people every week, when Bassem used to air. We manage over 1.2 million videos, and just last year we generated over four billion views across our network.
Q. How many Bassems do you feasibly think you can create in the next year?
The biggest challenge is usually the pool of aspiring talent that you have. Tube Star Network has a grassroots approach. We are going shout out to everyone, 'you can be something'. We're going to give them a clear-cut path to a media success story… it's just a two-minute video that can make [someone] like Bassem.
The second part of the answer is scale. We are going to be in several countries at the same time, across the region at once, we are partnering up with the big players. [In] Egypt, we are suspecting something like 20,000 to 30,000 YouTube channels joining our network…. people actually trying and saying 'actually I might have a shot at this'.
Q. Why would someone post their videos through your network and allow you to get the advertising revenue rather than do it themselves?
We are not going to get the advertising revenue, we are going to share it with them. We are going to protect their intellectual property. Part of the education is teaching them that they have rights.
Q. What share do you take from the advertising?
There is a terms of agreement that you need to sign, and there are different tiers. The more you are involved and the more talented and the more you prove yourself, and the less I spend money, the more you get a cut. We're trying to keep it fair; we're spending so much effort in making sure our contracts do not put people off.
Q. What is your geographical focus?
The plan of the Tube Star Network [is to target the] emerging markets, not just the Middle East and North Africa. The Middle East and North Africa we chose two reasons, the first obvious one is it's really our home and this is what we know. Latin America and the Middle East and North Africa are the biggest growing markets when it comes to ad spending year on year. So we are really hoping to reach at some point a global project, starting from the Middle East. Our sister brand [is] looking for global partners to support us and even grow beyond the Middle East.