Google: Arabic content ranks eighth on the internet
There are up to 630 million Arabic-speaking users of the search site around the world
Arabic is currently ranked the "eighth language in terms of growth and usage on the internet," a Google spokesperson told Al Arabiya News.
Arabic content dropped from the seventh spot 2012, according to the company, adding that it makes up only 3 percent of overall internet content.
"There's a huge gap between the number of people who speak Arabic and the amount of content available online," Maha Abouelenein, head of communications at Google for the Middle East and North Africa, told Al Arabiya News.
There are up to 630 million Arabic-speaking users around the world, she added.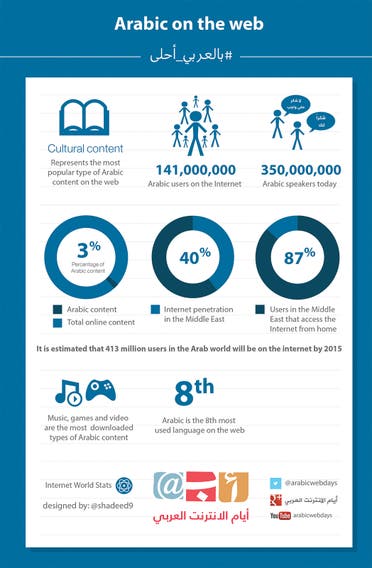 Fayeq Oweis, Google's language services manager for Europe, the Middle East and Africa, said that "Arabic speakers, or people who'd benefit from Arabic content, are 6-7 percent of the world population."
English remains the most used language on the internet, according to the company.
Abouelenein urged the creation of Arabic content "because we want the internet to be relevant to those who speak Arabic."
Oweis said that a lot of Arabic content is simply unavailable online.
"We have a rich heritage and history, probably not all of it available [online], and even if it is available, it's either in closed forums or... not searchable," he said.
Video
Abouelenein said that Google-owned YouTube's partnership program – which the producing company of popular political satirist Bassem Youssef is part of – is intended to support Arabic content producers.
"The majority of uploaded content on YouTube in MENA is in Arabic… with YouTube partnership program covering the UAE, KSA, Egypt, Qatar, Bahrain, Kuwait, Oman and Morocco," said the company spokesperson.
Top categories for videos produced in the Arabic language "are across general entertainment like comedy music and movies," according to Google.