Photo of former U.S. porn star used in anti-Ukraine 'propaganda'
A photo of Sasha Grey, 26, was used in a post on Russian social network VKontakte
A former porn star whose photo was used in an apparent fake news post related to conflict in east Ukraine has slammed the story as Russian "propaganda."
Grey, who was dubbed by Rolling Stone magazine in 2009 as the "reigning princess of porn" before quitting in the industry two years later, wrote on Twitter: "I (love) my Russian fans, but this propaganda takes it too far. News that I was a nurse killed in the Russian/Ukraine conflict. #f***propaganda."
This week, a photo of Grey, 26, was used in a post on Russian social network VKontakte, with a story detailing the grisly fate of a pro-Russian separatist nurse who was captured by Ukrainian soldiers, "humiliated" and dismembered with an ax.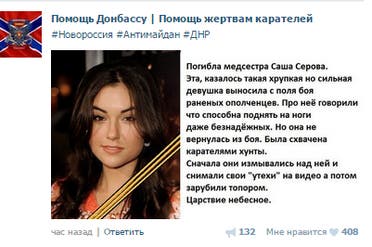 English-language daily the Moscow Times reported that the post received more than 3,500 likes within 24 hours of being online, and may have been a "sick joke" instead of intentional propaganda.
Misinformation and untrue claims have been very frequent in the conflict raging in eastern Ukraine, with supporters of both sides fighting battles on social media networks.
Although not a huge star in Russia, the former porn actress is now best known for her role in HBO hit show Entourage, which has a following in the former Soviet state. Two years ago, she came to Russia to take part in a promotional rally from the far eastern city of Vladivostok to Moscow.