Last Snapchat posts from a Saudi lawyer before she was killed in Istanbul
Shahad Sammam was among the 17 Arabs who were killed when a gunman opened fire in Reina nightclub
The last messages a 26-year-old Saudi Arabia lawyer - who died in the attack in a nightclub in Istanbul - have been revealed.
Shahad Sammam was among the 17 Arabs who were killed when a gunman opened fire in Reina nightclub had devoted herself to helping and defending the oppressed during her career as a lawyer.
In her last messages sent on Snapchat, Shahad wished her followers a happy new year free of agonies and full of love and happiness saying: "Soon we will embark on a new beginning, in a new chapter."
Her brother Sulaimain Samman told Al Arabiya that he shared a special bond with his sister, considering her his favorite sibling.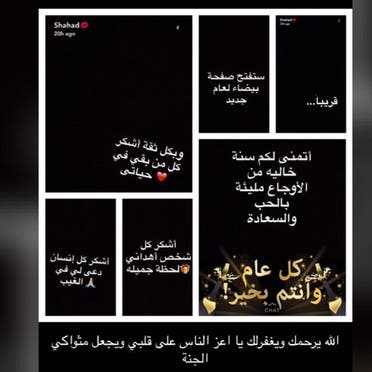 "My 26-year-old sister was waiting for my uncle, his wife and their little daughter at the Reina restaurant in the Ortakoy area, she was in constant contact with us through WhatsApp. The streets were crowded so my uncle and his family were running late, escaping death. He explained that the family members were in Istanbul for business and tourism. Terrorism transformed their happiness to sorrow. What did my innocent sister do to deserve this?"
"The Saudi consulate in Istanbul have contacted us and told us about the death of my sister. My uncle is currently working on the transportation procedures to bring her to Jeddah where her body is expected to arrive on Tuesday," he added.
Shahad is a newly graduated lawyer and had completed four years of training in the profession. She had two elder sisters, one who is pursuing a doctorate in the United States and the second is in France completing a Master's degree in medicine, in addition to two younger brothers.