Libya sliding towards civil war: experts
Deep ideological differences separate Islamist rebels from moderates, entrenching a deep divide which threatens to split the country
With violence by militias throughout the country, oil depots ablaze in the capital, and a mass evacuation of foreign embassy staff, Libya appears to be on the brink of civil war, experts say.
On Monday, the security situation worsened with explosions heard in central Tripoli as more foreign governments urged their respective nationals to leave the country where at least 160 people have been killed over the past two weeks.
Since the fall of strongman Muammar Qaddafi three years ago, Libya's struggling government has been unable to contain what U.S. Secretary of State John Kerry dubbed this week as "freewheeling militia violence" by numerous armed groups who did not hand over their weapons after Qaddafi's ouster.
Numerous media outlets have already described the country as "descend[ing] further into civil war."
Fresh violence
The fresh spate of violence stems from the preliminary results of the general elections last month to replace the vastly unpopular Islamist-majority parliament.
Following the disputed elections, commentators believe that liberal candidates will dominate the new parliament, leading Islamists to revolt.
"The Islamists are determined to maintain their position as a key player on the political scene, following their defeat in the recent elections and the rising threat from [Renegade Gen. Khalifa] Haftar's military operation against the Islamists in eastern Libya," said Libyan analyst Mohammad Eljarh, according to Middle East Online.
Additionally, the recent grouping of anti-Islamist militias under the command of Haftar in the country's eastern city of Benghazi has failed to calm the situation, according to American current affairs website The Daily Beast.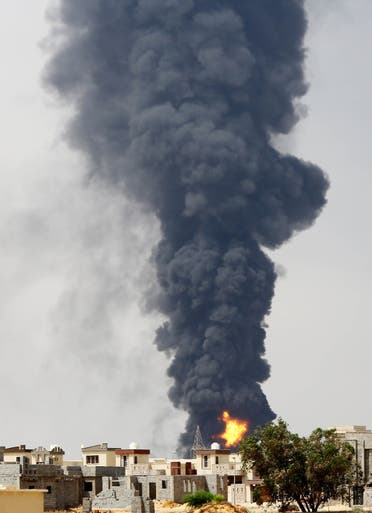 The crisis has also affected oil production, which has recently fallen nearly 20 percent to around 450,000 barrels per day (bpd) – a critical factor due to the fact that oil provides 95 percent of state revenues.

"Every day, it more and more resembles a civil war," said Chris Chivvis, a political scientist at the U.S.-based RAND Corporation policy think-tank.
"It's difficult to see how this gets better before it gets worse."
Yet Libya's chaos cannot be exactly described as a civil war, said David Mack, former U.S. diplomat and a scholar at the Washington-based Middle East Institute think-tank.
"It's much more than that. It's more of a question of various disparate militias and armed groups that are struggling for power and trying to be sure that they have a major share in determining Libya's future identity as well as having control of Libya's assets," Mack added.
"This is a threshold moment in Libyan politics. What we're seeing more than ever before is a struggle over the soul of Libya," said Dirk Vandewalle, a Libya expert and associate professor at Dartmouth College, according to the New York Times.

Deep ideological differences separate Islamist rebels from moderates, entrenching a deep divide which threatens to split the country.
"It's about the role of Islam in politics not about the role of Islam in private life," said a Western diplomat quoted by London-based newspaper Financial Times.
"Everybody goes to the mosque and abides by Sharia [law]. But one side says there is a role for Islam in politics and the others just don't want that."
Route to ruin
The crippling issues putting Libya on "Somalia's route to ruin" are over-dependency on oil reserves, an Islamist political front attempting to stifle other parties, power-struggles by warring militias and the overlying battle of "moderates v extremists," wrote Richard Bailey, an former advisor to the Libyan government, in a column on the website of Sky News on Monday.
In response to unrest next door, Algeria and Tunisia this month deployed 15,000 troops to the border. Egypt responded further by shutting its border crossing and warning of retaliation when 21 border guards were killed by gunmen.

But will the wider international community respond? Libya's government has relied on external assistance before, asking U.S. authorities to recapture a rebel-held oil tanker in March and on Sunday asking for help to extinguish a large blaze at a Tripoli fuel depot caused by rocket fire.

European powers, who are the primary trading partners with Libya, are also exposed to the effects of the turmoil in Libya across the Mediterranean, Mack said.
"I would expect that the Europeans would take a prominent and active role in efforts to help the Libyans stabilize their situation," he said.
In order to halt the violence, a political agreement would most likely need to be brokered by a "legitimate neutral authority" such as the United Nations, the European Union or the Arab League, said Chivvis.
However, the expert is not optimistic that this will happen.
"There's been some passing the buck internationally," Chivvis said.
"No-one feels responsible for what's been happening in Libya for the last three years."