Egyptian 'hipster' ISIS fighter Islam Yaken killed in Kobane
Islam Yaken - who according to friends had lived a cosmopolitan lifestyle back home in Egypt - bewildered many when he joined the extremist militants
Islam Yaken, a wealthy young Egyptian who left his homeland to join the Islamic State of Iraq and Syria (ISIS) in the summer, has been killed in a suicide mission in the Syrian conflict town of Kobane, Egyptian media reported on Monday.
Yaken - who according to friends had lived a cosmopolitan lifestyle back home in Egypt - bewildered many when he joined the extremist militants. A photo of him published on social media networks in August showed him brandishing a sword while mounted on a horse in Syria.
Before taking his life in a Kobane suicide operation, he had published a final letter on Twitter on Nov. 21.
"I ask almighty God not to be one of those meant in the verse 'And We will regard what they have done of deeds and make them as dust dispersed' or be one of 'those whose effort is lost in worldly life, while they think that they are doing well in work,'" Yaken addressed his comrades in the letter.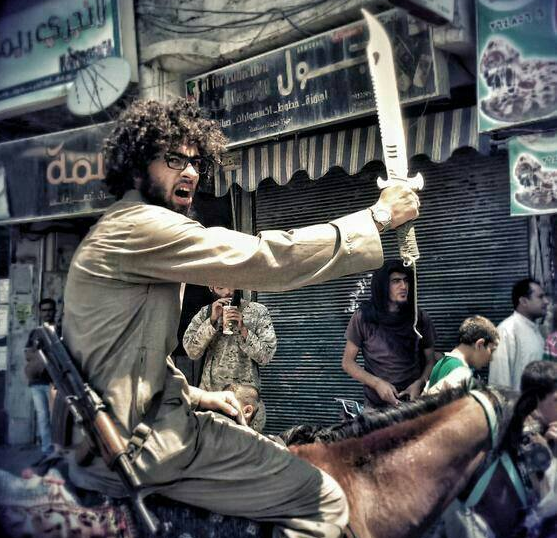 Yaken also voiced hope that God accepts his "deeds as good ones carried out for his sake."
"Oh brothers of unification across the world...fight the enemies of Allah, the infidels, the worshippers of the cross, the Jews and the tyrannical apostates and their armies. Slay their heads with your swords, kill them with your bullets and blow yourselves up (among them). Don't forget [the use of ] explosive devices as they are the best of deeds to gain the merciful (Allah's) consent," he added.
Wealthy upbringing
Born into a wealthy family, Yaken went to high school at the French Lycée la Liberté in Héliopolis and graduated in 2009.
As a multilingual student, he then went to Ain Shams University for a Law degree, which he completed in 2013.
An investigation by Al Arabiya News Channel revealed that as a schoolboy, he was considered normal and non-violent, yet was not very successful academically.
When Yaken graduated from school, he started to become interesting in bodybuilding, and regularly practiced sports.
"He was aged 17 when he first came to the gym," the director of the gym where Yaken had trained told Al Arabiya News Channel, who added that despite being respectable, polite and honest, he believed the youth was looking for fame.
With his hard, consistent work in the gym, the beefed-up Yaken would take photographs of himself at the gym and immediately upload them on Facebook, the gym director added.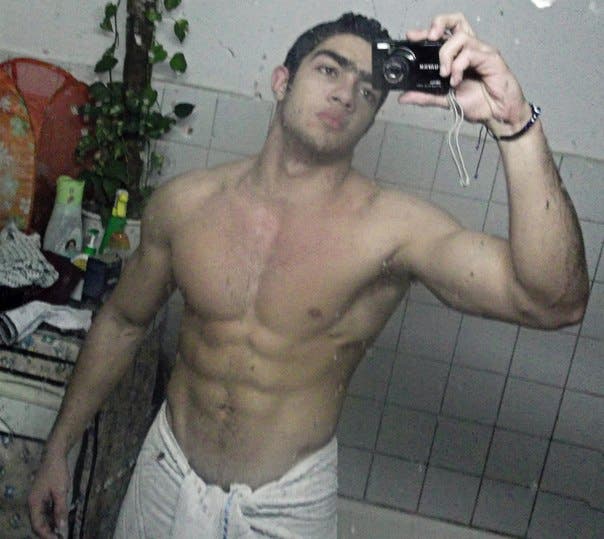 "He liked to show off a lot and I once criticized him for that," the gym director said.
Yaken began to show interest in becoming a personal trainer, and started uploading videos of him exercising on Youtube.
During the pro-Muslim Brotherhood protests in August 2013, where hundreds of protestors were massacred by security forces, Yaken did not seem to have a stance on either side, he added.
Privileged life
One of Yaken's former friends, who did not wish to be identified, told Al Arabiya News in August that he had once referred to the Islamist Muslim Brotherhood as "infidels."
Yet his privileged life of gym sessions, girlfriends and trips to the resort city of Sharm al-Sheikh would soon come to a halt.
"After a period of time, his friend who lived next to him in the same district got a motorcycle accident and died," one of Yaken's friends from university said.
After the tragedy, Yaken seemed to begin to fear death. He started to pray regularly, grew a beard, and began to wear the traditional jellabiya – a long cloak deemed unfashionable by many urban Egyptians. He had also began to turn off the TV in the gym.
As a second step, Yaken then started attending sessions at a religious school in Cairo, known for its observance to hardline Salafist theology.

While attending the sessions, Yaken would workout with other people there, ostensibly because "a strong believer is better than a weak believer."
Gruesome snaps
Soon after, despite the attempts of a local imam to try to dissuade him, Yaken travelled to Syria, where pictures fighting for ISIS appeared on social media – some showing him brandishing a sword, others showing him posing next to bloodied corpses.
While there, he called his mother and tried to persuade her to join him in his apartment by the Euphrates river. There, he boasted, he was doing well, and was also making a steady paycheck from the group.
"I spoke with my mother and told her to come and stay in this flat on the Euphrates," he wrote on a social media account. "She can eat and drink and study, with the family and everything. She replied, 'My son, what would happen if the owners of the flat came back? What will you do then?' I told her not to worry — they are dead and gone."
In the letter he penned shortly before his death, Yaken asked his family and friends to live for the unification of God's kingdom.
"Death comes to all, rather unannounced even to Muslims and the infidel alike," he wrote.