ISIS boy 'suicide bomber' surrenders in Iraq
Usaid Barbo walked up to a mosque in Baghdad's neighborhood of Baiya that he had been ordered to target in a suicide attack
A 14-year-old Syrian boy, clad in a vest lined with explosives, turned himself in to Iraqi authorities as he defected from the Islamic State of Iraq and Syria militant group, the New York Times reported.
Usaid Barbo walked up to a Shiite mosque in Baghdad's neighborhood of Baiya that he had been ordered to target in a suicide attack.
"I opened up my jacket and said, 'I have a suicide vest, but I don't want to blow myself up,'" he said in an interview with the New York Times conducted in a secret Iraqi intelligence site where he is currently held.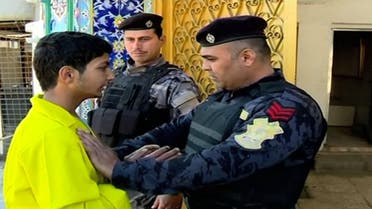 As chaos erupted, plainclothes security officials removed the vest off of him as other officers scrambled to keep people at bay.
Barbo was recruited by ISIS in a mosque in his war-torn hometown of Manbij, near Aleppo, which was overrun by the militant group.
"They seduced us to join the caliphate," he said as he explained that he joined the group willingly because he "believed in Islam."
"They planted the idea in me that Shiites are infidels and we had to kill them."
He was then taken to Iraq where time spent among the militants changed his view of the group.
"I noticed things I saw that were different from Islam."
He spoke of the group's imposition of severe punishment against those who were caught smoking when he saw fighters in training camps light cigarettes.
Barbo also said he saw men having sex with other men behind tents, adding that his discontent with the group grew by "the way they are killing innocent people."
By the end of his training, he was taken to Iraq where he was given the choice between becoming a fighter or a suicide bomber.
"I raised my hand to be a suicide bomber," he said, as he believed it would aid his plans of defecting.
"If I were a fighter and tried to surrender to security forces they might kill me, with my gun in my hand."
While Barbo asked that he be reunited with his family, his fate remains unclear. During the interview, he was dressed in a shirt and cargo pants and was not handcuffed. However, he appeared on state television a few days later, dressed in a yellow jumpsuit with cuffs on his hands. He was reportedly labeled a terrorist. However, Saad Maan, the spokesman for the Iraqi Interior Ministry called him a victim of ISIS, also on state television.
The intelligence officer who has been interrogating the 14-year-old said him and his colleagues would oppose a push to prosecute Barbo.
"Even if he was brought to court, we would be on his side, because he saved lives," the officer told the New York Times.