'Not behind, NEXT to every great man is a great woman,' say Arab women
Arab women leaders hold special session during the UAE Government Summit in Dubai
"Behind every great man is a great woman? No. NEXT to every great man is a great woman." That's the message top Arab women leaders were pushing during a Dubai panel session on female leadership in the region.
Speaking at the UAE Government Summit in Dubai, an annual meet focusing on how governments can handle a changing world, four Arab female officials spoke in a session titled "Arab Women: From Vision to Leadership."
The session hosted by Al Arabiya News Channel presenter Montaha al-Ramahi featured four panelists: Princess Ameera Al-Taweel of Saudi Arabia, Sheikha Bodour Al Qasimi of the UAE, Egyptian Minister of Social Solidarity Ghada Fathi Ismail Wali and Sheikha Lubna Al Qasimi of the UAE.
It discussed ways to empower women and reinforce their participation in the government, building upon their expertise and success stories across various industries.
In much of the Arab world, women's participation in the labor force is the lowest in the world, according to the United Nations.
Princess Ameera Al-Taweel gave a reference to Arab history in her discussion.
"In the Arab world's history, men and women have worked side by side … Behind every great man is a great woman? No. NEXT to every great man is a great woman," she said in reference to the popular quip.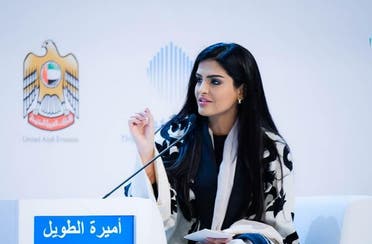 Taweel also hailed the late Saudi King Abdullah, who passed away last month, as a pioneer in women's rights.
In the Middle East, the regional average of female parliamentarians is just above 12 percent, which brings the region far behind the already low global average of 20 percent, according to the U.N figures.
"Quotas for women must be specified in the Arab world. This must be done until it is accepted as a necessary part of politics," Egypt's Wali said at the summit.
Panelists agreed that women should be given more entrepreneurship and leadership roles in the region.
"Women in entrepreneurship tend to have a different perspective on product and strategy, which tends to be very valuable," said Sheikha Bodour.
"We need to change the way we speak to girls and encourage them to assume leadership … A successful leader can achieve exceptional results whether a man or women," she added.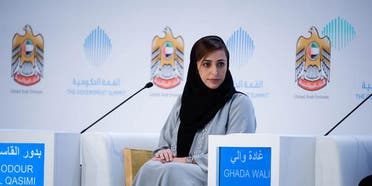 In comments which won applause from the audience, Wali said: "Women are asking for their rights because of their competence and skills, not because they are women."
Sheikha Lubna Al Qasimi said the Arab world should "move away from empowering women" and instead "empower society through women."
"Today we need women leaders and role models to deal with the world's social and economic problems," Bodour said.