From sand dunes to ski slopes Moroccan style
The Moroccan ski resort of Oukaimeden is perched at an altitude of 3,600 meters
On a clear day, skiers can see the dunes of the Sahara desert shimmer in the distance from the Moroccan ski resort of Oukaimeden, the highest in North Africa.
The view is impressive, even on a cloudy day, but ski instructors say a lack of infrastructure and hotels stands in the way of growth.
The resort is located in the High Atlas Mountains, a mere 50 kilometers from the popular tourist destination of Marrakesh with its luxury hotels and pools.
Oukaimeden in southern Morocco is perched at an altitude of 3,600 meters.
Joumayna, a visitor from Britain who took the only chairlift to climb 1,000 meters to the summit, said: "We are at the top, so close to the clouds. It's magnificent."
Six T-bar tows and 18 pistes were covered by a heavy carpet of snow this year for the first time in nearly two decades.
Local officials say a record number of visitors -- some 30,000 a day -- visited Oukaimeden during the first weekends of the winter season.
"But that is not enough. Much more needs to be done to build the infrastructure so that we can compete with Europe," said Mohamed Bennani, a ski instructor with the Royal Moroccan Ski Federation.
Bennani said the shortage of hotels and chalets resulted in most visitors coming from Marrakesh only to spend the day.
"It's like when people go to the beach for the day," he said.
Oukaimeden has only three small hotels, including one with 15 rooms run by a French family, and a handful of chalets.
Bouzekri Attifi, who runs a private school in Marrakesh, agrees Oukaimeden does not have enough beds for visitors.
He had taken 50 schoolchildren on a day trip to the resort, leaving Marrakesh at dawn.
"I had to urge the ski federation to provide us with a place where the children can have some breakfast before hitting the slopes," he said.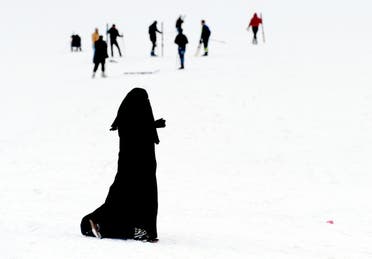 Paragliding to beat heat
Driving to Oukaimeden is a challenge, along a narrow road that winds its way up.
"The road's too small and it can be closed for four to five days when there's heavy snowfall," said ski instructor Hazzan Azougagh.
A weekend escape can turn into a nightmare when up to 5,000 cars head the same way.
Authorities in El Haouz province, where the resort is located, have built several open-air car parks and set up a bus station to help ease traffic.
Work is also underway to open a second road.
Locals make a modest but brisk business from November to March when, snow permitting, skiers spend money for lessons or to hire ski gear.
Off-season, local entrepreneurs offer trekkers the chance to climb up to Mount Tubkal, one of the highest peaks of the Atlas range reaching an altitude of 4,000 metres.
Paragliding is also being promoted, especially when temperatures in the Marrakesh plain below soar to 45 degrees Celsius (113 Fahrenheit).
"Everyone comes here. The French, the British ... really, everyone, including many Moroccans," said Brahim Chah, who also gives skiing lessons.
Dubai's Emaar group announced plans more than eight years ago to invest $1.4 billion in developing the resort together with 11 hotels and the world's highest altitude 18-hole golf course, but the project remains on standby.
Oukaimeden is one of two ski resorts in Morocco, along with Ifrane, a smaller, picturesque resort of the Middle Atlas near the northern city of Fez.
Tourism earnings are a backbone of Morocco's economy and the kingdom hopes to double the number of visitors from 10 million to 20 million by 2020.