Ahmad al-Assir, a Lebanese Sunni Muslim cleric, was virtually unknown two years ago before the conflict in Syria erupted. His strong statements against Syrian President Bashar al-Assad and his allies, including Lebanon's Shiite group Hezbollah, placed him on the political spectrum.
Some would say that Assir's rise to fame was somewhat a phenomenon, while others blamed local media for giving him the time of day.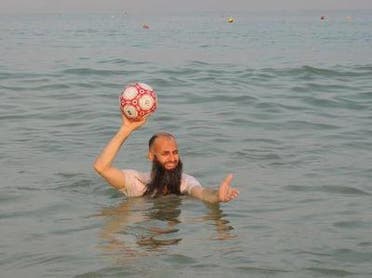 "He was always there from before, and he was starting to establish his presence in the mosque," Hazem El-Amin, an Al-Hayat journalist, told Al Arabiya referring to the Sidon-based cleric. "In the last two years, there was a change in that there was now money. A clear push."
"Hezbollah played a big role in bringing attention to him, TV stations, such as OTV, would cover him. Hezbollah needed an Assir-like icon to justify its actions." OTV is a television station affiliated with the Free Patriotic Movement, which is an ally of the Shiite group.
According to Mohammad Salam, political analyst and publishing editor of Itihad news agency, Assir rose to fame because he was saying what the Lebanese were scared to say.
"Before, he was not addressing Hezbollah. Assir is a result, not a cause, of the oppression that Hezbollah inflicted on to the people," he told Al Arabiya. "He started to loudly say the same thing that people were thinking, so he became important to people."
Assir went on various talk shows – including the well-known local LBC program 'Kalam Ennas' – and constantly preached about different sects living together harmoniously. He also in a number of interviews stressed that he and his followers will never take up arms.
Things change: 'the incident'
In November of last year, three people were killed – one of whom was Assir's bodyguard – in clashes between Hezbollah supporters and those of the Muslim cleric, according to the state news agency.
Although there had already been reports that some of Assir's followers were obtaining weapons, he publicly called on his supporters to arm following 'the incident.'
"I don't know who [is arming him], no one has a clear answer. Some say businessmen, people from the Gulf... but definitely there's money to be able to have the kind of weapons he has," El-Amin said.
According to Ahmad Moussalli, Professor of Political Science at the American University of Beirut (AUB), Assir was financed by Gulf states to help and entice people against the regime of Bashar al-Assad.
"With the beginning of the fighting in Syria, the whole of it was focused on sectarianism between the regime and opposition… a lot of the Salafi groups [got involved] and were supported by the Gulf states, Assir was one of them," he told Al Arabiya. "He was given money, and he started to use harsh sectarian language, and thus the increase of attention [from Lebanese ] media.. and increase of tension between the Shiites and Sunnis."
"By receiving money, his rhetoric escalated and he started recruiting people under the guise that he was defending the Sunnis."
Assir is "nobody's guy"
However, Salam argues that the Muslim cleric is in fact defending Sunni Muslims.
"There was an incident in which the prophet's wife, Aisha, was insulted [during a Shiite ceremony], and Assir held a protest during which he was calling for the stopping of insults to our religion [Sunnis], and he became famous," he told Al Arabiya, adding that Assir does not have political cover.
"He is nobody's guy. Plenty of people are donating to him; religious people, Muslims in Lebanon and outside Lebanon. They give Zakat (charitable giving by Muslims), and they are giving it to Assir because he is expressing their opinions."
Assir – whose followers lie in the hundreds, experts told AFP – made headlines on Sunday when his supporters fired at a Lebanese army checkpoint in the southern city of Sidon. He has previously accused the Lebanese Armed Forces (LAF) of supporting Hezbollah and ignoring the fact that the powerful militant group is in possession of weapons and has dispatched its fighters to Syria to battle with Assad forces against rebels, most of whom are Sunni.
In turn, the cleric called on his followers to head to Syria and take part in the battles against the president.
Assir released a video on Sunday in which he said: "To all our partisans, we are being attacked by the army, which is Iranian and Shiite ... I call on all partisans to block roads and all honorable Sunni and non-Sunni [soldiers] to leave the army."
"Some of his people are trained, some recruited locally and others regionally. But they have basic training, they are of course no commandos." Moussalli said. "The number of his followers, I don't even believe are in the hundreds. Less. At most, he has 200 followers. They cannot do anything militarily, but they may be able to block a street, but they cannot militarily take over cities."
The latest spark of violence between Assir's supporters and the LAF comes amid rising sectarian tensions in Lebanon between Shiite supporters of the Assad regime and Sunnis who sympathize with the Syrian rebels.
Who is Ahmad al-Assir?
Assir, the eldest of five children, was born in 1968 to a Shiite mother and a Sunni father, renowned for taking part in a TV singing competition, "Studio El Fan."
His father used to sing and play instruments, including the Oud and Derbakeh. However, according to AFP, Assir convinced him to stop singing and turn to Islam.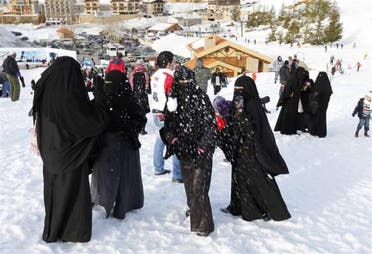 Religion did not play a big role in the childhood of Assir, who is currently the imam of the Bilal bin Rabah Mosque in Sidon, which lies around 40 kilometers from the Lebanese capital, Beirut.
"I grew up in an artistic house… there was no room for religion," Assir told the Lebanon-based NOW website.
However, he said that it was a "turning point" for him when Israel invaded southern Lebanon in 1982; he was only 15.
"I started thinking about life and death a lot, and I wanted to learn about religion," he told NOW. "Of course, I had to struggle with my parents a lot. They rejected the idea not because they were against religion but because they were scared from everything called 'a militia'."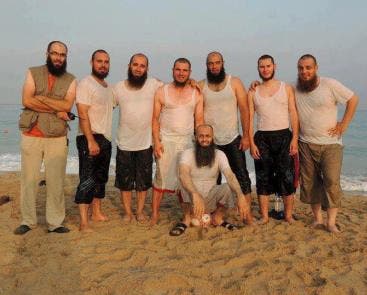 Nohad, Assir's sister, told AFP that her brother once supported Hezbollah's resistance against the Jewish state, "but he left when he saw the truth" about the Shiite group.
Assir has one brother, Amjad, and three sisters, Nohad, Waseela and Nagham. The Muslim cleric is married to two women, both of whom wear the full-face veil, and has three children from the first wife.
Assir and the media
Since 2012, Assir has provided the media with more than just "sectarian-driven" statements but also stunts that would surely get the people's attention.
In April, photographs of him and his entourage circulated online showing the men – most of whom have long beards – playing in the water and posing on the sand wearing white T-shirts and shorts.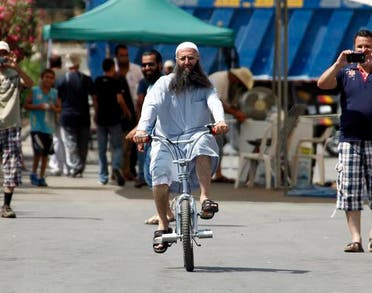 Later that year, the cleric was widely ridiculed for riding a bike around an anti-Hezbollah sit-in to reportedly inform his supporters of his talks with Lebanese officials.
However, the most criticized stunt of all was when Assir took dozens of his followers to a Lebanese ski resort, Faraya, infuriating Christian locals. He was accused of stirring sectarian tension when he and his followers publicly started praying in the mostly Christian area.
Pictures of the cleric and his supporters – including women wearing the niqab – playing in the snow went viral.
Assir and Fadel Shaker
Also pushing Assir into the limelight was prominent Lebanese singer Fadel Shaker, who reportedly provided the Muslim cleric with financial aid to arm and train his followers.
The singer shocked citizens when he unexpectedly turned up at an anti-Assad rally organized by the Muslim cleric, whose movement reportedly forbids singing.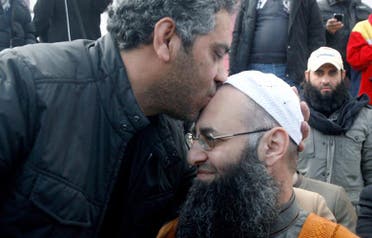 Shaker, alongside Assir, announced that he now believed all non-Islamic music to be "haram" or forbidden and that he will no longer take part in that "superficial" culture but focus on Islamic studies.
"He was my father's friend, and he used to participate in his parties, however, my acquaintance with him does not go far back," Assir told NOW referring to Fadel Shaker. "It started because of him repeatedly coming to Bilal bin Rabah Mosque after I did not my duty and paid my condolences to him following his mother's death."
You can find Dana Moukhallati on Twitter @Dana_Mk