Alicia Keys sets Dubai 'on fire'
International singing sensation Alicia Keys hit the stage in Dubai this Friday and performed to a cheering crowd
Dubai was set "on fire" Friday night as 14-time Grammy award winning star Alicia Keys and RnB singer Jason Derulo took to the stage to wow a cheering crowd.
Performing as part of Keys' "Set the world on fire tour," opening act Jason Derulo sang crowd pleasers such as "In my head" and "Watcha say." He also showed off his dance and disc jockeying skills.
Keys, who is popularly known for playing the piano, made her grand entrance standing on top of an all-white grand piano. She kicked off her segment of the concert with a rendition of her song "Karma."
Keys paraded the stage in a semi see-through glittery purple top, matched with black leggings and high heels. She wore the outfit for the entire performance and finished it off with a mohawk hair do.
The international singing sensation proceeded to hit the high notes, dance in heels, and play the "keys" to a receptive crowd.
"I love you Alicia Keys!" cried one fan. "You are the best!" shouted another.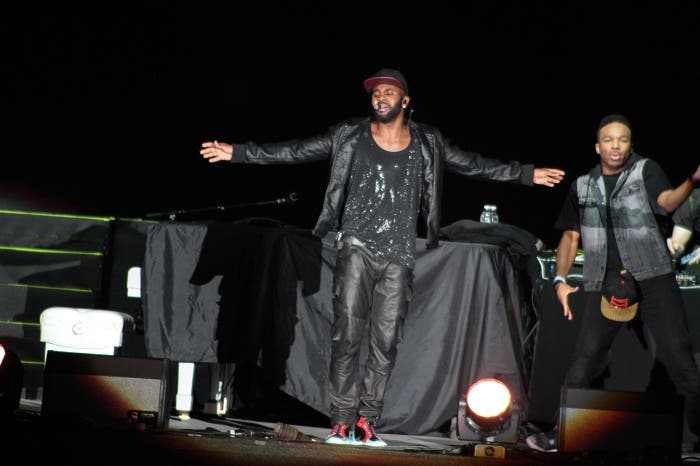 Keys performed a medley of her hits, including "Like you'll never see me again," "You don't know my name," "Brand new me," "No one," "Empire state of mind" and "If I ain't got you."
Keys urged her fans to join her in performing her first hit song, released in 2001, "Fallin'."
"Dubai, you got to help me sing this," she asked an obliging crowd.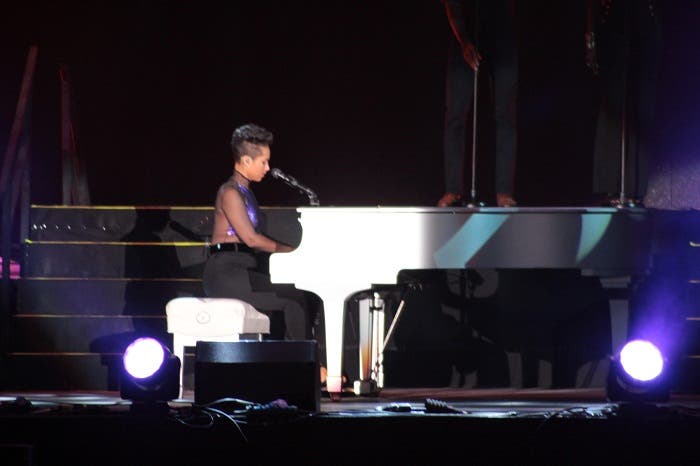 Aside from playing the piano, Keys showcased her musical talent by keeping the beat of her song "Girl on fire" with a snare and floor tom.
Keys last visited the UAE when she performed with George Michael in 2008 in Abu Dhabi.
"I'm crazy excited to be here. I feel grateful to be back here, to spend this evening with you," she said to Friday's audience.