Bill Clinton poses with 'prostitutes' at charity event
The former U.S. President shows he still has a knack for getting embroiled in sticky situations
Showing he still has a knack for getting embroiled in sticky situations, former U.S. President Bill Clinton was caught posing for a photo with alleged prostitutes at a recent charity event.
Clinton was pictured with two female attendees who work as legal prostitutes in Nevada, according a report by Britain's Daily Mail on Saturday.
According to the reports, the photo was taken at the Unite4:Humanity event held in Los Angeles on Thursday in the lead up to Oscars weekend.
Entertainment site TMZ identified the women as Ava Adora and Barbie Girl, "known to work at the Bunny Ranch brothel near Carson City."
The former president's reputation was infamously stained after having an affair with intern Monica Lewinsky while he was still in the White House.
In the pictures Clinton is seen grinning as he is flanked by the two women.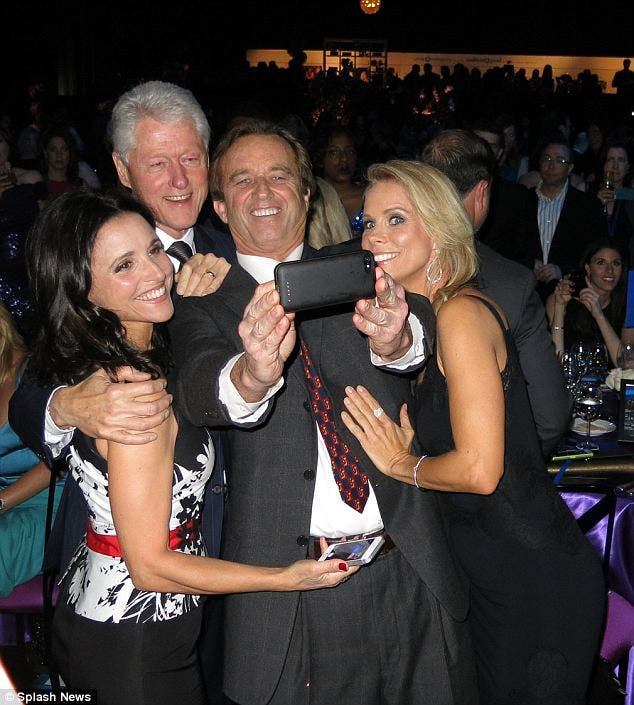 "They attended the event with Bunny Ranch owner Dennis Hof and porn star Ron Jeremy. The Bunny Ranch was first opened in 1955 and is legally licensed in the state," the Daily Mail reported.
Both girls have biography pages on the brothel's website, in which Ava Adora describes herself as a 23-year-olf originally from San Diego.
"Beyond my physical attributes, I know I can make a great friend, intellectual and funny companion, and passionate lover," she writes, according to the Daily Mail.
But the women weren't the only ones who posed for a Kodak moment with the former president.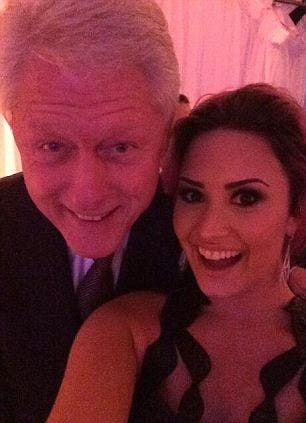 On Twitter, pop singer Demi Lovato shared her picture with Clinton, writing: "Too excited to filter this... NO BIG DEAL - #Selfieswiththeprez.... @billclinton - so nice to meet you!!!!"
Clinton was also seen taking a picture with Robert Kennedy Jr, his girlfriend actress Cheryl Hines and fellow actress Julia Louis-Dreyfus
During a keynote address at the event, Clinton paid tribute to one of his own heroes and he also received the "Unity Award" as presented by Forest Whitaker.