U.S. med student selling 'virginity' backs out of bid
Elizabeth Raine said "the terms of the auction would not be fulfilled"
A U.S. medical student who hit the headlines last month after launching an online auction to sell her alleged virginity has backed out of the bid, she revealed in a blog post this week.
The 27-year-old woman, who goes by the name "Elizabeth Raine," had told Al Arabiya News last month that despite the criticism, she thinks her actions are not "immoral." Before the auction closed, the highest bid had reached $801,000.
In a blog post on Thursday, Raine said that "the terms of the auction," to lose her alleged virginity with the highest bidder, would "not be fulfilled."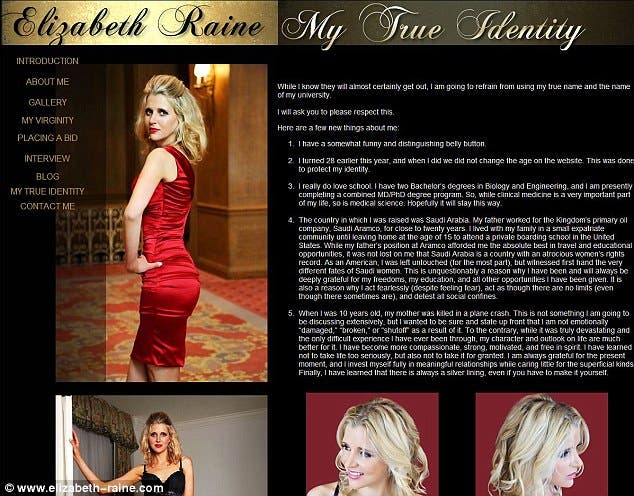 "I have decided it is time to put a stop to this kerfuffle (to describe it nicely) and return my focus to my medical training. I still do possess some spitefully strong beliefs about virginity, prostitution, and a woman's right to do as she damned pleases, but school is my first priority (as it has been for my entire life). At this point, I no longer care about the auction, at least not nearly enough. This was a very easy decision."
Raine had been accepting bids on her auction site, which has since been seemingly shut down, but had used it to disclose personal information, as well as several pictures of herself, with an info box on her "specifications."
She had said she's 5 feet 10 inches, 130 pounds, with measurements of 34A-26-36. On her website, she also disclosed that she grew up in Saudi Arabia.
"The country in which I was raised was Saudi Arabia. My father worked for the Kingdom's primary oil company, Saudi Aramco, for close to twenty years."
She had told Al Arabiya News that her family and friends were supportive of the auction and spoke about growing up in the Saudi kingdom.
"My friends and family have all been very supportive - even my father, which I know is surprising for people.
"I had a truly wonderful childhood in Saudi Arabia. I lived in a small and friendly expatriate community on the beach, and I was privileged with opportunities for travel and a fantastic education. I am very grateful for my time there, and all that it has afforded me," she said.
True identity revealed
Now, however, it seems Raine wants to put the auction behind her. But that may prove tough as the UK's Daily Mail revealed on Saturday her true identity: Hanna Kern, a high-achieving college graduate.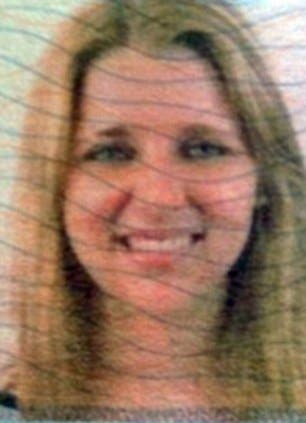 The newspaper said that fellow students at the University of Washington shocked at her double-life, saying she was a "shy and studious girl."
In response, Raine wrote in a follow-up post, saying that when her university found out she was behind the auction, it "voiced a preference" for her not going through with it.
"A preference that I fully took into account," she said.