Deport or Dance? Egypt star defends flag costume
The dancer was summoned by prosecutors over an Egyptian flag outfit she wore during a party in a Red Sea resort
Egypt-based Armenian belly dancer Safinaz defied an official request for her deportation, after she wore a red, white and black costume depicting the colors of the Egyptian flag, by dancing again at a wedding in Cairo, according to Arabic media reports on Saturday.
The Armenian entertainer was asked to leave the country last week by Minister of Manpower Nahed Ashry, who described Safinaz's outfit as an "insult and a crime punishable by law."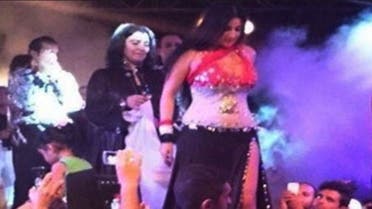 The dancer, popular in Egypt, was summoned by prosecutors over the outfit she wore during a party in a Red Sea resort.
Safinaz reportedly hired three deportation defense lawyers who reassured her that no one was in the position to send her out of Egypt.
"The performer was requested to perform normally especially that she thought about halting her performances for a few days," one source close to Safinaz was reported as saying.
"She [Safinaz] changed her mind following the request of the lawyers," the source added.
In June, Egypt's former interim president Adly Mansour issued a law imposing a jail term of up to one year and a fine with a maximum penalty of LE30,000 ($4,000) for insulting the flag.
"Some forms of insulting the flag, as stipulated by the law, include raising, displaying or trading a flag if it is damaged, faded or not suitable in any other way. It is also prohibited to add any slogans, designs or pictures to the flag," according to Ahram Online.