Blunder? Obama's 'tea cup salute' sparks Twitter rage
His very own storm in a tea cup ensued after he was snapped saluting a pair of U.S. marines while holding a Styrofoam cup
Amid U.S. strikes on militants in Syria and a week of diplomacy at the United Nations, Twitter has found another reason to shine the spotlights on President Barack Obama.
His very own storm in a tea cup ensued after he was snapped saluting a pair of U.S. marines on Tuesday while holding what appeared to be a Styrofoam cup.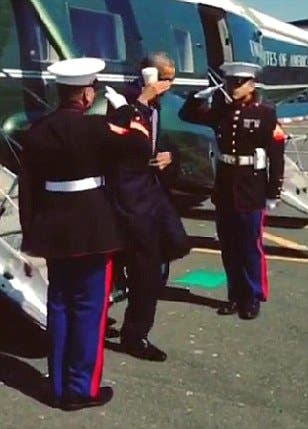 Described as a breach of military regulations by the U.S. media, the move is also feared to not be taken lightly by servicemen and army veterans.
On Twitter, users questioned by the White House would post the clip, particularly as the use of a Styrofoam cup clashes with the green-policy speech he was on his way to deliver at a U.N. Climate Summit, the Daily Mail stated.
Even real estate mogul and long-time Obama critic Donald Trump said the president's cup salute was "terrible."
Obama's salute of military personnel is part of the protocol which is done by the commander-in-chief as a sign of respect.
"But Obama's casual approach to the moment as he left his Marine One chopper at a helipad in New York City came at a time when he had just ordered U.S. fighter planes to fly perilous missions in the skies over Syria," the Daily Mail reported.
According to the'Customs and Courtesies manual of the U.S. Marine Corps, there are circumstances in which it's not appropriate to render a salute, including when military personnel are "carrying articles with both hands or being otherwise so occupied as to make saluting impractical."