First Beatles contract sold at U.S. auction
1961 Beatles recording contract sells for $75,000
The first recording contract signed by The Beatles, which set the career course for the legendary band, was sold at a New York auction Saturday for a hammer price of $75,000.

The future Fab Four signed the six-page contract in 1961 in Germany, where the band's small club shows in Hamburg resulted in their first recorded single, "My Bonnie," a modern version of a children's song.

The song, under the band name "Tony Sheridan and the Beat Brothers" because the producer doubted "The Beatles" would work in the German market, never became a hit but drew enough requests back in the band's hometown of Liverpool that it caught the attention of local record store owner Brian Epstein.

He signed on to become the band's manager and, making use of his connections, the following year The Beatles recorded "Love Me Do," their first single under their name.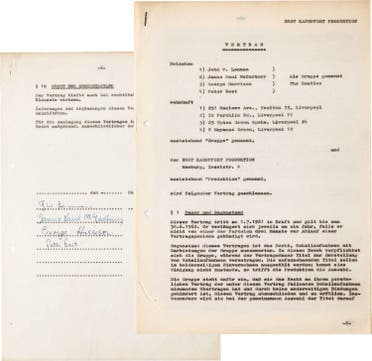 "Had they not spent this time in Hamburg, they may have not become the musical force that they did. And had they not recorded 'My Bonnie,' they may have never come to the attention of Brian Epstein," said Dean Harmeyer, consignment director at Heritage Auctions which sold the contract and other Beatles memorabilia.

The winning bid was $75,000, for a total price of $93,750 when including the 25 percent buyer's premium. It was placed online by an anonymous bidder.

The amount was the initial asking price although the auction house had predicted the bid might go higher.

Other items that sold at the New York auction, which coincidentally took place within earshot of a German American parade on Fifth Avenue, included a postcard from Hamburg sent by drummer Ringo Starr to his grandmother and a menu autographed by all four Beatles during a 1965 trip to Austria.

An autographed first pressing of the "Love Me Do" 45-inch record sold for $25,000 including the buyer's premium, well above the estimate.

The Beatles memorabilia went up for sale after the 2010 death of Uwe Blaschke, a German expert on the band and collector.

The 1962 contract that the band signed with Epstein, who was often called the fifth Beatle and died of an overdose in 1967, is going up for sale in London on September 29.

Auction house Sotheby's estimates that contract will sell for up to £500,000 ($775,000).