"I expect my mother to be the first Saudi woman to drive through Al-Raq'ei checkpoint. Thanks to security men," tweeted young Saudi director Fahad al-Sharif.
Many interacted with al-Sharif's tweet that featured a selfie with his mother behind the steering wheel.
Twitter users hailed Al-Sharif's mother's ability to drive the car on the road which connects the Saudi border with Kuwait and follows geographically the province of Hafr al-Batin in the eastern region of Saudi Arabia.

The post along with a hashtag in support of Saudi women driving trended today on twitter as followers stressed the need for women to drive and support men carry on with daily life at home, school and work.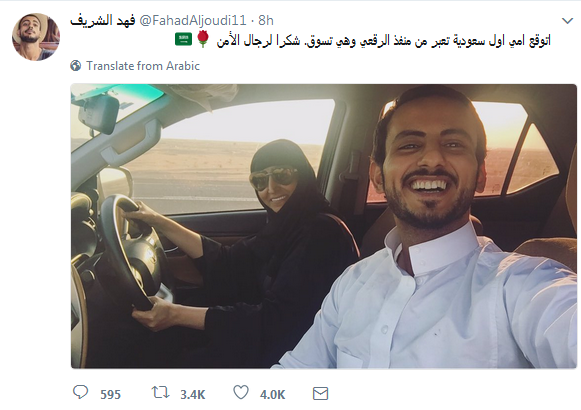 The decree that allowed women to drive is expected to bring about a social shift in Saudi Arabia and remove unrealistic fears that has hindered progress and development for long.
Saudi King Salman bin Abdul Aziz, issued a Royal Decree giving women the right to drive amid reginal and global acclaim.
The decree stipulates that the provisions of the Traffic Law and its executive regulations - including the issuance of driving licenses - shall be applied to males and females alike, effective June 2018 and in alignment with the approved Sharia law and regulations.

Fahd Al-Sharif is a director who has a master's degree in filmmaking from Hollywood, has won several awards, including "The Arab Swan" and "Cockroach."