In 1940, a rare picture of the Kaaba's red brick exterior was taken before it was adorned with its kiswah. This cover, also known as the kiswah, cost 22 million Riyals and took 10 months of hard labor to construct.
The kiswah is made in Saudi Arabia using pure silk that weighs about 670 kilograms, 10 kilograms of which are silver-plated pure gold silk string-like wires. These wires form the manuscript verses on the cladding's belt.
The kiswah is made up of 47 rolls, each with a length of 14 meters, and a width of 95 centimeters. Below the kiswah's belt some Quranic verses read: "O living, O ye, O mercy, O merciful, Praise be to God, Lord of the worlds."
The belt is decorated with delicate embroidery covered with delicate gold-plated silver wires that surround the entire Kaaba.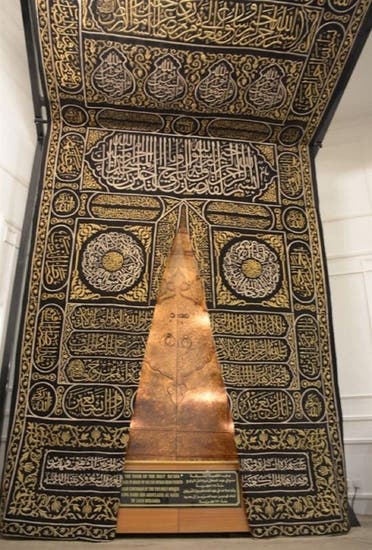 The general manager of the holy Kaaba's kiswah factory Dr. Mohammed Abdullah Bajuda said that emulating the previous revered cover occurs annually with the beginning of the month of Dhu al-Hijjah of the Islamic calendar.
The new kiswah is received in a ceremony worthy of this prestigious Islamic event. On the 9th of the same month at dawn, the old kiswah is removed, and the new one is then placed over the sacred site. This process goes on until the Asr prayer.
The old kiswah is then taken back to the factory to be kept safely.
Over 240 handymen and administration staff work at the factory, all distributed across the different departments that are equipped with advanced machinery that create the dyeing, weaving, printing, embroidery, sewing and the assembly of the valued cover.
The factory houses the world's biggest sewing machine with a height of 16 meters. Other supporting departments include a laboratory, administrative services and a healthcare department for the workers.
This article is also available in Arabic.