Déjà vu? Haifa Wehbe's bid to be Monica Bellucci
Lebanese bombshell Haifa Wehbe has been accused by film critics of trying to copy Italian actress Monica Bellucci
Whether you think imitation is the best form of flattery or copy-cats are just plain lazy, a trailer for an Egyptian film starring Lebanese bombshell Haifa Wehbe is bound leave you curious.
Film critics have spotted an uncanny resemblance between a trailer of Wehbe's movie, "Sweetness of Spirit" (or "Halawet Rooh" in Arabic), and Italian actress Monica Bellucci's famous Martini Gold commercial.
"The teaser is fully inspired by a commercial for Martini Gold starring Monica Bellucci … You cannot but spot the similarities between the teaser and the commercial, not to mention the music," a presenter from Access A-List, a daily celebrity entertainment program on the London-based Levant TV, says in a video created by the program to show scene-by-scene overt similarities.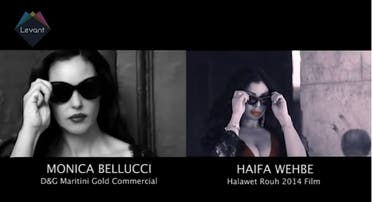 In the recently-released movie teaser, we see Wehbe wearing a vivacious red dress, her full cleavage on show. She strolls through what seems like a sun-drenched piazza, hounded by a crowd of dapperly-dressed men.
As if that's not eye-catching enough, her scarlet dress and lipstick stand out against a black and white classic, vintage tinted background.
Freeze frame, and switch to Italy!
The 2010 Martini Gold ad by Dolce & Gabbana shows Hollywood sex symbol Bellucci lustfully swaying through a similar piazza-esque location.
In fact, a host of similarities to the Wehbe trailer tick all the boxes; Bellucci wears oversized dark sunglasses, a tight-fitting dress, a pack of sharp-looking men follow her and Roman statues are used to set both scenes.
Even the camera angles and shots are similar and the music for both clips could easily be the instrumentals for a dramatic Italian ballad.
Also in the trailer, the Lebanese star is seen smoking a cigarette, which drew parallels with a scene from the 2010 film "Malèna" starring – you guessed it - Monica Bellucci.
Dismissive director
But director Sameh Abdel Aziz has shrugged off all but one of these similarities.

"This promo shows Haifa's cigarette being lit up, this is the only similarity that they [the critics] say is like Monica [Bellucci]," Abdel Aziz told Al Arabiya News on Tuesday.

When asked about the crowd of men, the dress, the oversized glasses, Abdel Aziz dismissed the comparisons.
"If you're talking about the dress, Monica's dress isn't red. The only reason people have drawn ties between Haifa and Monica is because of the cigarette, but my treatment of the scene is different.
"The film is totally different. It's not about this trailer, it's not about Haifa Wehbe. I want this film to be judged by its content when it is released," Abdel Aziz added.
The director said that since the release of this trailer, another one has been released, with actual shots of the film.
But the first trailer continues to be criticized.
'Creative theft'
"This is an act of theft. They have stolen the ideas and creativity behind an advert that millions have seen and is extremely popular," Tarek el-Shenawy, a top Egyptian film critic told Al Arabiya News on Tuesday.
"Many productions in the Egyptian film industry have copied other creative pieces. But in this case, this act of theft was carried out daringly."
Last month, it was revealed that the screening of Abdel Aziz's film was delayed by Censorship Committee officials in Cairo.
Scenes of Wehbe's rape with actor Mohammad Lutfi and a scene of her kissing actor Basim Samrah in particular raised the concern of the committee. But the film was given the go-ahead last week after the regulator reportedly removed 27 linesfrom the script.
"Following the controversy this file has created even before being released, the daring trailer was made to spark more propaganda for the film," said Shenawy, speculating that the movie is set to be released next month.
But could the director face any further backlash after filming what appears to be a copy-cat trailer of the Bellucci ad?
"The film industry in Egypt is getting more and more accustomed to seeing ideas from Western productions being copied in our films. Still, accusing a director of stealing of creative content should never be taken lightly."