Saudi Arabia slams Israeli 'war crimes' in Gaza
Saudi Arabia's U.N. Ambassador Abdullah al-Muallami says world should not be 'fooled' by Israel's self-defense claims
Saudi Arabia has criticized on Tuesday Israel's "shameful war crimes" in the Gaza Strip, saying the international community should not be "fooled" by Israel's claims of self-defense against Palestinian rocket attacks.
"Don't be fooled when Israel says that it is defending itself against rocket attacks being launched by Palestinians against it," Saudi Arabia's ambassador to the United Nations Abdullah al-Muallami told a U.N. Security Council meeting.
"The reality is that Israel has a defense system against these rockets and has efficiently repelled most of the rockets directed at it," Muallami said.
"What Israel is doing is not a self-defense, but rather a massive offense and shameful war crimes," he added.
Also read:
UN: Israeli actions could amount to 'war crimes'
'I would fire rockets at Israel,' tweets British MP
Netanyahu needs Hamas, and here's why
Jamal Khashoggi, a Saudi political commentator and editor-in-chief of Alarab TV, said Saudi Arabia is a "staunch supporter of the Palestinian cause for many years and the statement of Muallami confirm this position."
He said Saudi Arabia is moving towards lifting the blockade on Gaza, which is also the focus of Qatar and Turkey, according to Khashoggi.
"The blockade is the major issue in Gaza. Saudi Arabia for sure will support lifting the blockade in any agreement.
He said: "Egyptian initiative didn't care about lifting the blockade. It talks about ceasefire first, talks later. The Palestinians say they will not accept a ceasefire without lifting the blockade, and we have to listen to the Palestinians."
President Abdel Fattah al-Sisi on Wednesday defended Egypt's role in trying to broker a Gaza truce between Israel and Hamas.
Sisi said his truce proposal would give Hamas its key demand of an end to the eight-year blockade of Gaza once calm is restored.
"What we want is that simple citizens in the Gaza Strip not be subjected to what they are going through now," he said of the proposal, which demands a ceasefire before talks.
Israel launched its offensive on July 8 to halt missile salvoes by Hamas Islamists, which was angered by a crackdown on its supporters in the nearby occupied West Bank and suffering economic hardship because of an Israeli-Egyptian blockade.
After failing to halt the militant barrage through days of aerial bombardment, Israel sent ground troops into Gaza last Thursday, looking to knock out Hamas's missile stores and destroy a vast, underground network of tunnels, according to Reuters.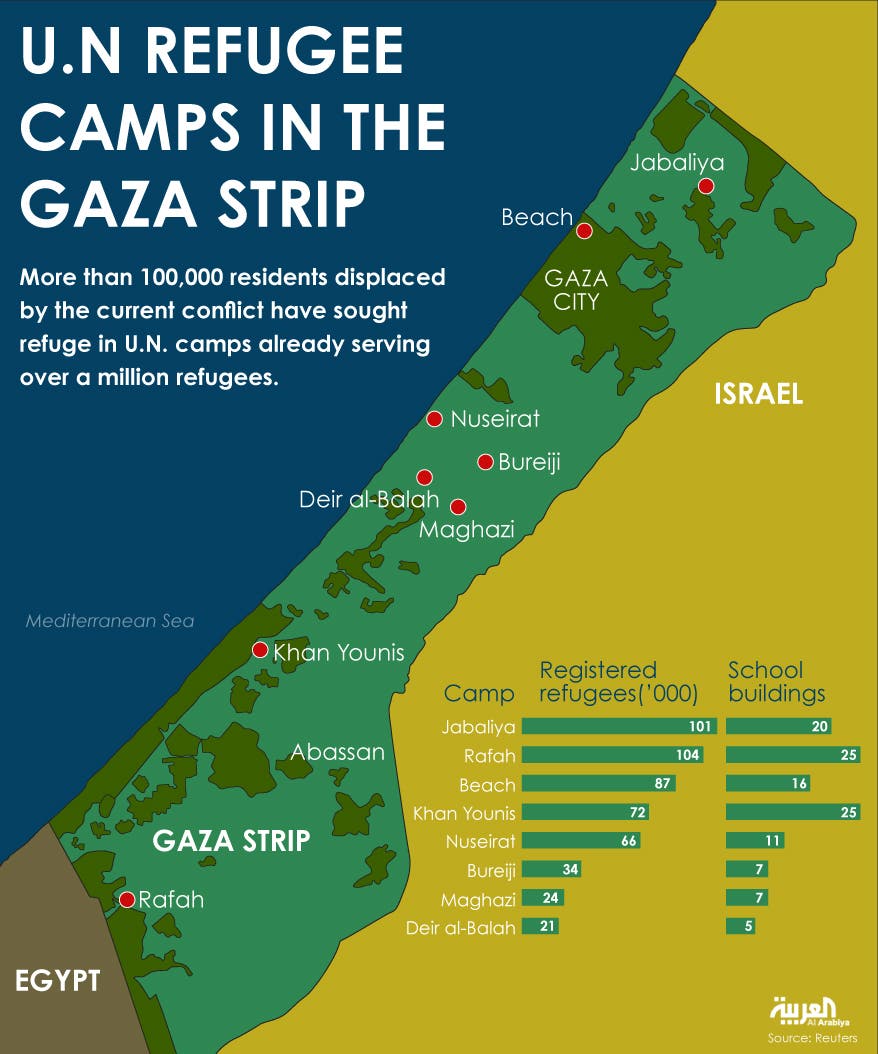 Some 630 Palestinians, many of them children and civilians have died in the conflagration, including a seven-year-old hit by a shell in southern Gaza early Wednesday, a medic said.

Some 29 Israeli soldiers have been killed, including a tank officer who was shot by a Palestinian sniper overnight. Two civilians have been slain by rocket fire. The military says one of its soldiers is also missing and believes he might be dead. Hamas says it has seized him, but has not released his picture.

Clouds of black smoke hung over the densely populated Mediterranean enclave, with the regular thud of artillery and tank shells filling the air.

"We are meeting resistance around the tunnels ... they are constantly trying to attack us around and in the tunnels. That is the trend," said Israeli military spokesman Lieutenant-Colonel Peter Lerner.
He said 30 militant gunman had been killed overnight, bringing the total to 210 since the offensive started.

Hamas's armed wing, the Izz el-Deen Al-Qassam, said its fighters had detonated an anti-personnel bomb as an Israeli army patrol passed, killing several troops. There was no immediate confirmation from Israel.

There was also violence in the occupied West Bank, where a Palestinian was shot dead by Israeli troops near Bethlehem. The army said soldiers fired a rubber bullet at him during clashes with Palestinians hurling rocks and Molotov cocktails.
Palestinian demands

In a move that could effectively turn President Mahmoud Abbas into the main Palestinian point person for a Gaza truce, his umbrella Palestine Liberation Organization (PLO) on Wednesday formally supported core conditions set by the Hamas-led fighters. Reuters reported.

Egyptian sources, speaking on Tuesday as top U.S. diplomat Kerry visited Cairo to advance truce efforts, said a unified Palestinian position could help achieve a deal. Unlike Hamas, the PLO has pursued peacemaking for two decades.

Israel faced mounting international alarm at the civilian death toll, as well as increased economic pressure from lost tourism revenues after the U.S. Federal Aviation Administration (FAA) took the rare step on Tuesday of banning flights to Tel Aviv's Ben-Gurion International Airport for at least 24 hours.
(With Reuters)