Kurdish clashes with ISIS delay evac of Yazidis
A Kurdish official said a corridor was opened to evacuate Yazidis in Sinjar, adding that Iraqi forces were in no way part of the operation
Sporadic clashes between Iraqi Kurdish fighters and Islamic State extremists, as well as other logistics problems, are delaying the evacuation of the last Yazidis still trapped on Mt. Sinjar, an Iraqi lawmaker told the Associated Press on Friday.
Iraqi Kurdish forces battling ISIS militants managed on Thursday to open up a key corridor so that thousands of people from the country's Yazidi minority who have been trapped on a mountain can flee, a senior Kurdish official said.
The development was an incremental step in the battle to retake the town of Sinjar, at the foothills of the mountain by the same name, which fell to ISIS militants in early August.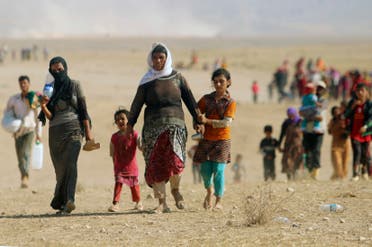 Backed by U.S.-led coalition airstrikes, the Kurdish peshmerga troops, launched the operation to retake Sinjar on Wednesday. After opening the corridor, 15 ISIS militants surrendered themselves Thursday to the peshmerga, Al Arabiya News Channel's correspondent reported.

Masrur Barzani, chancellor of Kurdistan Region Security Council, told the AP that the Kurdish forces advanced in battle, establishing the passageway to the mountain on Thursday.
He emphasized that Iraqi forces were in no way part of the operation.
"A corridor has been opened to evacuate those people," Barzani said in Dohuk, in Iraq's Kurdish region said.

"We asked the Iraqi government to provide the ammunition needed for this operation," he said.
"Unfortunately they did not send the ammunition and their contribution was nothing, to be quite frank with you, especially for this operation," he added.

Thousands of Yazidis remained stuck on the mountain despite efforts to airlift or escort them by a passageway through Syria back into Iraq, where they found refuge in the Iraqi Kurdish semi-autonomous region.
Some activists blamed the Kurdish Regional Government of not helping the Kurdish-speaking minority group. Some even complained that KRG 'abandoned' Sinjar when the situation became difficult.
"The KRG still had a responsibility to protect Sinjar because of their claim over it, and the fact that they had administrative responsibility of it. But when things got difficult, they had no problem abandoning it," Matthew Barber, a Middle East history scholar at the University of Chicago who was in northern Iraq last summer.
He added: "Being of one Iraq's still-unresolved disputed territories, both Baghdad and Kurdistan vie over who Sinjar should belong to. The irony is that both claim it, yet neither protect it."
Yazidis follow an ancient religion with ties to Zoroastrianism.
Also, see: Remembering 2014's captives still held by extremists.
[With AP and Reuters]