ISIS blows up truck bombs at Syrian town near Turkey's border
The UK-based Observatory for Human Rights said the attacks targeted Kurdish YPG checkpoints in two mainly Arab inhabited villages
Islamic State of Iraq and Syria (ISIS) militants on Saturday detonated explosive laden trucks in two villages near the Kurdish-controlled Syrian border town of Tel Abyad, with reports of casualties, a monitor that tracks the war said.

The UK-based Observatory for Human Rights said the attacks targeted Kurdish YPG checkpoints in two mainly Arab inhabited villages on the south eastern edge of the town.

Tel Abyad, in a strategic location on the border with Turkey, was taken last month by Kurdish forces from ultra-hardline jihadists in an advance backed by U.S. led air strikes.
Infographic: ISIS bombs explode on Syria-Turkey border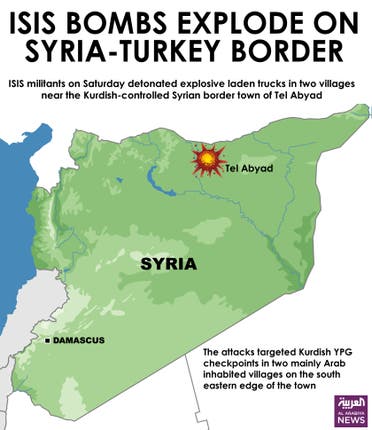 The news come after Turkey launched its first-ever air attack against ISIS targets in Syria early on Friday, promising more decisive action against both ISIS and Kurdish militants.
Turkish forces on Saturday also unleashed a third wave of airstrikes and ground attacks on ISIS targets in Syria and Kurdish militants in northern Iraq.
(With Reuters)