Iraqi forces clashed with ISIS militants holding out in Mosul's Old City on Wednesday, more than 36 hours after Baghdad declared victory over the jihadists in what they had made the de facto Iraqi capital of their self-declared caliphate.

Prime Minister Haider al-Abadi's victory announcement signaled the biggest defeat for the hardline Sunni group since its lightning sweep through northern Iraq three years ago. But pockets of Mosul remain insecure and the city has been heavily damaged by nearly nine months of grueling urban combat.

About 900,000 people fled the fighting, with more than a third sheltered in camps outside Iraq's second largest city and the rest living with family and friends in other neighborhoods.

Civilian activity has quickly returned to much of Mosul and work to repair damaged homes and infrastructure is underway, but authorities have not prepared a post-battle plan for governance and security in the city, officials say.

Iraqi forces exchanged gunfire with the militants in their final Mosul redoubt just before midnight and into the morning hours, three residents living just across the Tigris River from the area told Reuters.

Army helicopters strafed the Old City and columns of smoke rose into the air, though it was unclear if these came from controlled explosions or from bombs set off by ISIS, the residents said by phone.

"We still live in an atmosphere of war despite the victory announcement two days ago," said Fahd Ghanim, 45. Another resident said the blasts shook the ground around half a kilometer away.

An Iraqi military official attributed the activity to "clearing operations".

"There are Daesh (fighters) hiding in different places," he said, using an acronym for ISIS. "They disappear here and pop up there, then we target them."

Media access to the area has been heavily restricted since Abadi claimed victory on Monday, hailing "the collapse of the terrorist state".

Footage released by the ISIS news agency Amaq entitled "Fighting till the last gasp" and allegedly filmed in Mosul's Maydan district showed militants mixed in with civilians and unidentified corpses lying amid the rubble of an urban battlefield. Reuters could not authenticate the video.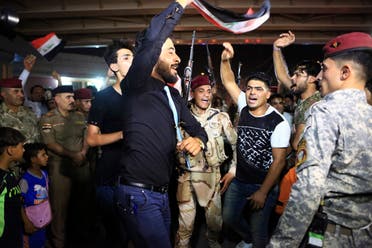 Asymmetric attacks
The Iraqi official declined to estimate the number of militants or civilians remaining in the Old City, but the top US general in Iraq said on Tuesday that as many as a couple of hundred ISIS insurgents could still be in Mosul.

"There are bypassed holdouts. We haven't cleared every building in this city the size of Philadelphia. That's going to have to be done, and there are also hidden IEDs (improvised explosive devices)," Lieutenant General Stephen Townsend told reporters. "There are still going to be losses from the Iraqi security forces as they continue to secure Mosul."

The US-led coalition said it had conducted three air strikes on ISIS in the Mosul area on Tuesday, targeting militants, machine-gun emplacements and rocket-propelled grenade systems.

South of the city, Iraqi security forces repelled an ISIS attack launched from western desert areas on the village of al-Jaran, a tribal fighter said.

Reinforcements also arrived to help government forces oust militants armed with machine guns and mortars from the village of Imam Gharbi, further to the south. ISIS had taken around 75 percent of the village since storming it last week.

These are the kind of asymmetric, guerrilla-style strikes ISIS is expected to concentrate on now as US-backed Iraqi forces regain control over cities the group captured during its shock 2014 offensive.

Another attack on a border guard convoy in western Anbar province, near the Syrian border, killed two soldiers and wounded four on Tuesday, military sources said.

Separately, 28 Sunni Muslim civilians were kidnapped in the Iskandariya district south of Baghdad this week and 20 of them were found dead later, a police officer told Reuters.

Suspects detained by the authorities said they belonged to the Shiite Muslim Asaib Ahl al-Haq militia. A Baghdad-based spokesman for the group, whose fighters are taking part in the Shiite-led government's campaign against ISIS, said he had no knowledge of the incident.

The government's victory in Mosul may rekindle revenge attacks and fresh violence between Sunnis and Shiites, a sectarian divide that tipped Iraq into civil war after the US-led invasion that toppled Saddam Hussein in 2003.