Watch: Sisi, Modi oversee Indian Republic Day parade featuring Egypt's Armed Forces
Egypt's President Abdel Fattah al-Sisi joined India's President Droupadi Murmu and Prime Minister Narendra Modi during a parade celebrating the south-Asian nation's Republic Day.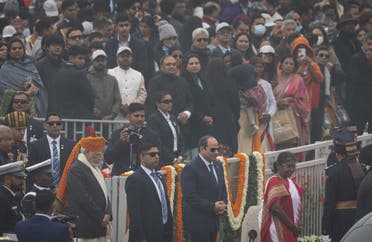 India showcased its military and cultural diversity in the colorful parade on Thursday at the revamped colonial avenue, with a contingent of the Egyptian armed forces and an increased participation of women contingents.
For the latest headlines, follow our Google News channel online or via the app.
The parade celebrated the anniversary of the day the country's secular Constitution came into effect in 1950.
VIDEO: India celebrates Republic Day with a parade in the main streets of New Delhi.

Indian Prime Minister Narendra Modi attends the procession with military troops and tanks to colourful floats and national flags were waved in the procession. pic.twitter.com/sANvhhPyTF

— AFP News Agency (@AFP) January 26, 2023
Al-Sisi, who was the guest of honor for the 2023 national event, held talks with Indian Prime Minister Narendra Modi in New Delhi ahead of the parade.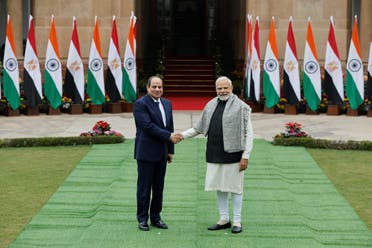 He is the first major world leader to visit India in a year the government is eagerly preparing to host the G20 summit for the first time.
India's Prime Minister Narendra Modi, chief of defense staff, and the three service chiefs were also present at the parade.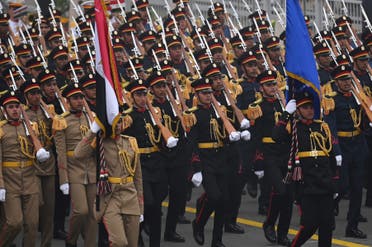 Several thousand people watched the parade from seats around Kartavya Path - or path of duty - braving the cold on a foggy morning in New Delhi, while millions more watched on television.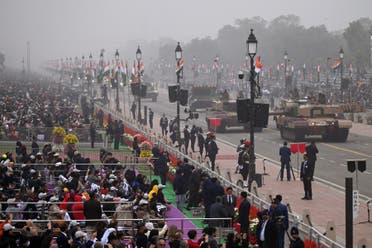 Known as Rajpath since independence, and as King's Way during British colonial rule, the ceremonial central boulevard was renamed in September last year.
The event ended with a flypast by 45 aircraft of the Indian Air Force, with French-made Rafales, Russian-made Su-30s and the Indian-made Tejas fighter jets putting on an impressive aeronautical display.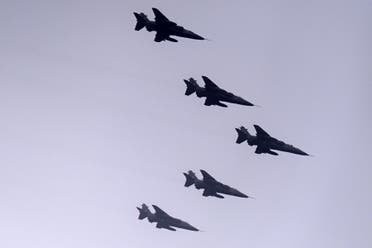 With Agencies
Read more:
India, Egypt to deepen military co-operation, as Sisi holds talks with PM Modi
India, Pakistan were 'close' to nuclear war, Pompeo writes in new book